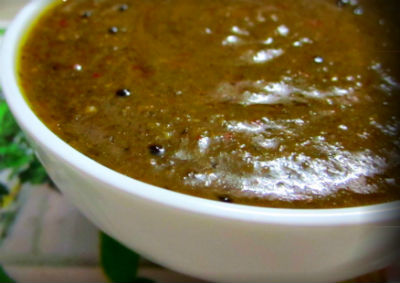 Ingredients:
Curry Leaves – 2 handful
Peppercorns – 10
Dried Red Chillies – 3
Urad Dal – 1 tsp
Jeera – 1 tsp
Chana Dal – 1 tsp
Tamarind – 1 small ball
Oil – 4 tsp
Salt as per taste
Method:
1. Heat 1 tsp of oil in a pan.
2. Add the peppercorns, red chillies, urad dal, jeera and chana dal.
3. Fry for a minute or two until the dals turn golden.
4. In a different pan, fry the curry leaves with 1 tsp of oil.
5. Add it to the other pan containing the dals.
6. Transfer to a mixie along with tamarind, salt and little water.
7. Blend till smooth.
8. Heat the remaining oil in a pan.
9. Add the mustard seeds and the ground curry paste.
10. Cook for a minute or two.
11. Remove and transfer to a bowl.
12. Serve hot with cooked rice.
13. This keeps good for a week.
Tip: If you want it a bit watery, add a little bit more water.
Image credit: Taste Junction