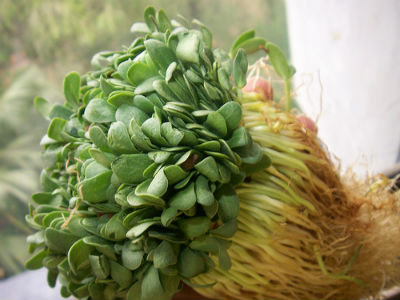 Ingredients:
Vendhiya Keerai (Methi Leaves) – 3 bunches, cleaned, washed, chopped
Tamarind Extract – 1 cup
Sambar Powder – 2 tsp
Toor Dal – 1 cup, cooked, mashed
Mustard Seeds – 1/2 tsp
Fenugreek Seeds – 1/2 tsp
Oil as required
Salt as per taste
Method:
1. Heat little oil in a pan.
2. Saute the vendhiya keerai and keep aside.
3. Combine the tamarind extract, salt and sambar powder in a broad vessel.
4. Place it over medium flame.
5. Add the vendhiya keerai and cooked dal.
6. Cook for a few minutes, till it starts to boil.
7. In a small frying pan heat little oil and fry the mustard seeds and fenugreek seeds.
8. Pour this over the sambar.
9. Add salt and stir to mix well.
10. Serve hot with rice.
Note: image is for illustration purposes only and not that of the actual recipe.