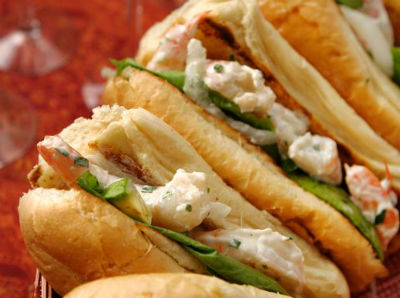 Ingredients:
Shrimps – 350 gms, large, cooked, shelled, deveined, cut in half lengthwise
Mayonnaise – 1/3 cup
White Bread Slices – 6
Lettuce – 1 cup, coarsely shredded
Salt as per taste
Worcestershire Sauce as required
Method:
1. Spread mayonnaise on 3 bread slices and place a spoonful of the lettuce.
2. Add the shrimps and sprinkle some salt.
3. Add worcestershire sauce on top.
4. Cover with some lettuce and a bread slice.
5. Press firmly and trim the crusts (if desired).
6. Toast the sandwiches and cut in half.
7. Serve at once.
Makes 3 Sandwiches.
Tip: You can also add sliced tomatoes or onions if desired.