Baked Seafood Au Gratin is a delicious continental dish with an assortment of seafood cooked in a cheddar cheese sauce and topped with parmesan cheese.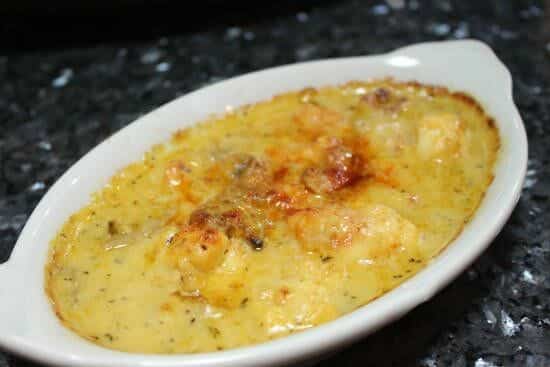 Ingredients:
Crab Meat – 125 gms
Shrimps – 125 gms, shelled, deveined
Fish Fillets – 125 gms
Milk – 3/4 cup
Cheddar Cheese – 1/4 cup, grated
Parmesan Cheese – 2 tblsp, grated
Onion – 2 tblsp, chopped
Capsicum – 2 tblsp, chopped
Butter – 1/4 cup
Maida (Plain Flour) – 1/4 cup
Water – 2 cups
White Vinegar – 1/4 tblsp
Worcestershire Sauce – 1/4 tsp
Black Pepper Powder – a small pinch
Tabasco Sauce (or any hot sauce) – a small drop
Salt as per taste
Method:
1. Heat 2 tblsp butter in a pan.
2. Saute the onions and capsicum for 2 minutes.
3. Add 2 tblsp maida and cook for 5 to 6 minutes, stirring from time to time.
4. Add the crab meat and cook for another 2 minutes.
5. Transfer this to a greased baking dish and keep aside.
6. Heat water in a large pan.
7. Add the shrimps, fish fillets and simmer for 2 minutes.
8. Drain and reserve 1/2 cup of the water.
9. Keep the seafood aside.
10. Heat the remaining butter in a pan over low flame.
11. Add the remaining flour and stir for a minute.
12. Add the milk and the reserved water.
13. Increase flame and cook until thickened and starts to bubble.
14. Add the cheddar cheese, vinegar, worcestershire sauce, salt, pepper powder and tabasco sauce.
15. Addd the seafood and stir.
16. Transfer this to the baking dish, over the crab meat and sprinkle with parmesan cheese.
17. Place it in a preheated ovena t 175C/350F and bake for 20 to 30 minutes or until lightly browned.
18. Remove, cool and serve at once.