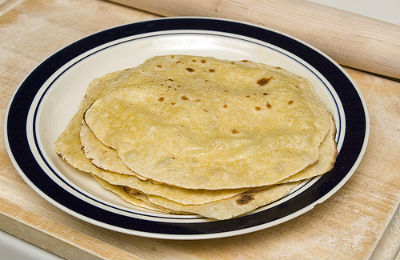 Ingredients:
Wheat Flour – 2 cups
American Sweet Corn Kernels – 1 cup
Ginger – a small piece, cleaned
Green Chillies – 3
Lemon Juice – 2 tblsp
Coriander Leaves – handful, chopped
Ghee – 1 tblsp
Oil as required
Salt as per taste

Method:
1. Combine the sweet corn, ginger, green chillies and coriander leaves.
2. Grind them together to a coarse consistency.
3. Add lemon juice and mix.
4. Add this to the wheat flour along with salt, ghee and enough water.
5. Knead well to a chapati dough consistency.
6. Pinch small balls and roll them into small-medium chapatis.
7. Heat a tawa over medium flame.
8. Cook the chapatis on both sides adding little oil.
9. Remove and serve hot with side dish of choice.