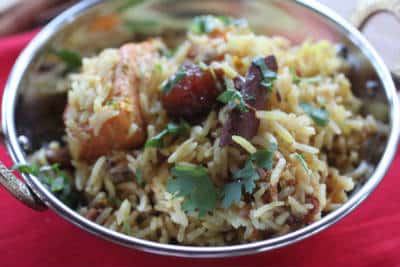 Ingredients:
Vanjaram Meen (King Fish) – 1 kg, chopped, cleaned, washed
Ghee – 250 gms
Basmati Rice – 500 gms
Onions – 150 gms, chopped
Cardamoms – 4
Cloves – 4
Gasa Gasa – 1/2 tsp
Tomatoes – 5, chopped
Green Chillies – 6, sliced
Ginger – a small piece, peeled
Cumin Seeds – 1/2 tsp
Black Peppercorns – 1 tsp
Red Chilli Powder – 2 1/2 tsp
Coriander Powder – 4 tsp
Salt as per taste
Oil as required
Method:
1. Grind together the ginger, gasa gasa, peppercorns and cumin seeds.
2. Sprinkle salt on the fish pieces and keep aside for 5 minutes.
3. Heat little oil in a pan.
4. Fry the fish pieces till half done.
5. Remove and keep aside in a warm place.
6. Add some more oil to the pan.
7. Add the onions, red chilli powder, coriander powder, green chillies, tomatoes and ground paste.
8. SAute well for 3 to 4 minutes.
9. Add enough water and bring to a boil.
10. Add the fish pieces and reduce flame to low.
11. After 10 minutes, switch off flame and transfer the fish pieces to a pressure pan.
12. Add the rice and pour the gravy on top.
13. Pressure cook for 2 to 3 minutes or until the rice is cooked and fish is tender/flaky.
14. Remove and serve hot.
Note: image is that of Fish Pulao garnished with dried plums.
image credit
Subscribe to our Newsletter
Receive the latest recipes & kitchen tips !