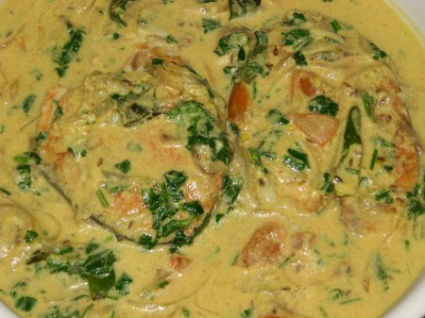 Ingredients:
Pomfret Fish – 6 fillets
Coconut Oil – 1 tblsp
Mustard Seeds – 1/2 tsp
Garlic – 4 cloves, finely chopped
Ginger – 1/4 inch piece, julienned
Green Chillies – 3, slit, deseeded and julienned
Onions – 1 to 2, sliced into rounds
Curry Leaves – handful
Tomatoes – 1 to 2, cut into slices
Turmeric Powder – 1/4 tsp
Coconut Milk – 1/2 cup thick + 1/2 cup thin
Lemon Juice – 1/2 tblsp
Salt as per taste
Method:
1. Heat oil in a pan.
2. Add mustard seeds and fry till they splutter.
3. Add garlic, ginger and green chillies.
4. Stir fry for a minute or two.
5. Add onions and saute till translucent.
6. Add turmeric powder and the fish fillets.
7. Add 1/2 of the thin coconut milk and bring to a boil.
8. Reduce heat and simmer for 3 minutes, turning the fish once or twice.
9. Add salt and mix well.
10. Add the remaining thin coconut milk, curry leaves and tomatoes.
11. Cover the pan with a lid and cook for 3 minutes.
12. Remove from heat and add the thick coconut milk.
13. Stir carefully without breaking the fish fillets.
14. Return the pan to heat and bring to a boil over low heat.
15. Add lemon juice and stir gently.
16. Remove and transfer the fish to a bowl.
17. Serve hot with plain rice.
Kerala style Fish cooked in Coconut Milk