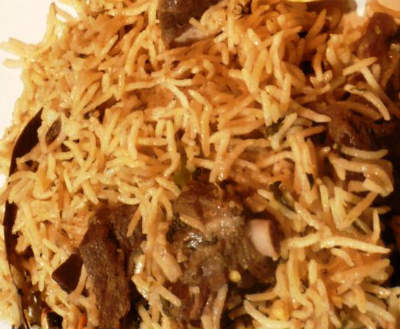 Ingredients:
Mutton – 750 gms, chopped
Rice – 4 cups, washed and soaked in 4 cups of hot water
Black Cardamoms – 8
Black Peppercorns – 2 tsp
Dry Red Chillies – 8
Cloves – 10 to 12
Cinnamon – 1 two inch piece, broken
Onions – 2 cup, sliced
Ghee – 8 to 10 tblsp
Red Chilli Powder – 2 tsp
Garam Masala Powder – 2 tsp
Edible Food Colour (optional)
Salt as per taste
Method:
1. Heat ghee in a pan over medium flame.
2. Fry the cardamoms, peppercorns, red chillies and cloves for a minute.
3. Add the onions and saute till transparent.
4. Add the mutton pieces and mix well.
5. Add salt, garm masala powder and red chilli powder.
6. Stir fry for 2 minutes.
7. Pour 2 cups of water and bring to a boil.
8. Reduce flame to low and cover the pan with a lid.
9. Simmer for a few minutes or until the mutton pieces are tender.
10. Remove the mutton pieces and keep aside.
11. Pour 3 to 4 cups of hot water and add the rice.
12. Mix well and add the mutton pieces.
13. Bring to a boil and reduce flame.
14. Cook for 5 more minutes and add the food colour, if using.
15. Mix and cover with a lid.
16. Cook for a few minutes until rice is cooked and mutton pieces are tender.
17. Transfer to a serving bowl.
18. Serve hot.