This is a simple and delicious dish with minimal ingredients. The Cheesy Baked Salmon is a perfect dish for those sunday brunches.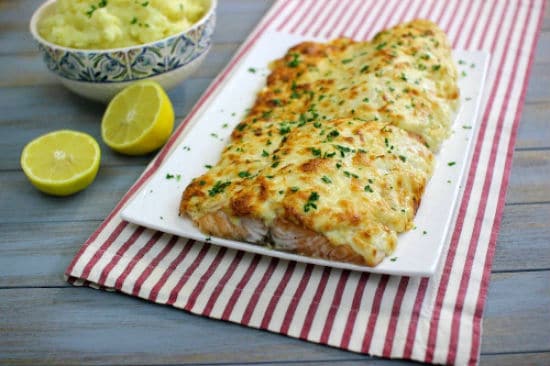 Ingredients:
Salmon Fillets – 750 gms
Mayonnaise – 3/4 cup
Coriander Leaves – 2 tblsp, chopped
Parmesan Cheese – 2 to 3 tblsp, grated
Lemon Juice – 3 tsp
Salt as per taste
Black Pepper Powder as per taste
Method:
1. Rinse and pat dry the salmon fillets. Transfer to a flat surface.
2. Sprinkle slat and pepper powder.
3. Mix the coriander leaves, mayonnaise, cheese and lemon juice.
4. Add salt and pepper powder.
5. Mix well.
6. Place the salmon fillets on a baking tray sprinkled with some coriander leaves.
7. Spread the mayo mixture all over the top and sides.
8. Place the tray in a preheated oven at 375F and bake for 15 minutes or until golden.
9. Serve with pasta or rice.