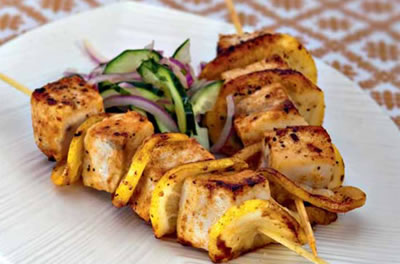 Ingredients:
Fish Steaks – 375 gms, cut into chunks (any fish of your choice)
Onion – 1, small, finely sliced
Lemon – 2, small, cut into thick slices
Juice of 1/2 Lemon
Sugar – 1/2 tsp
Garam Masala Powder – 1/2 tblsp
Cucumbers – 2, small, diagonally sliced
Oil – 1 tblsp
Coriander Leaves – 1/2 tblsp, minced
Salt – 1 tsp
Skewers – 2 to 4 (if using bamboo skewers, soak them for 30 minutes)
Method:
1. Combine 1/2 tsp of salt and sliced onions in a bowl.
2. Keep aside for 30 minutes and rinse the onions under running water.
3. Dry and place it in the bowl.
4. Add the juice of 1/2 lemon, sugar and coriander leaves.
5. Mix well and keep aside.
6. Thread the fish chunks and lemon slices onto the skewers.
7. Sprinkle salt, garam masala powder and keep aside.
8. Heat oil in a pan over medium flame.
9. Place the skewers in the pan and cook for 2 minutes on each side.
10. Meanwhile, add the cucumbers to the onion bowl and mix.
11. Remove the skewers from the pan and transfer to a serving dish.
12. Serve with the onion cucumber mixture.