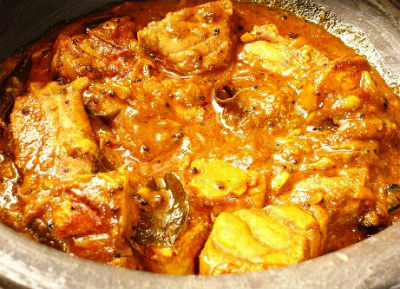 Ingredients:
Fish Fillets – 500 gms, quartered
Oil – 1/8 cup
Onions – 1 to 2, finely chopped
Tomatoes – 2, chopped
Ginger – 1 one inch piece, grated
Garlic – 2 cloves, crushed
Red Chilli Powder – 3/4 tsp
Turmeric Powder – 3/4 tsp
Salt as per taste
Grind to a paste:
Coriander Seeds – 1 1/2 tsp
Dried Red Chillies – 2 to 3
Tamarind Extract – 1 tblsp
Method:
1. Heat oil in a pan and fry the onions till light brown.
2. Add ginger, garlic, salt, red chilli powder, turmeric powder.
3. Stir-fry for 1 to 2 minutes.
4. Add the ground paste and sprinkle a little water.
5. Cover pan with a lid and simmer for 2 to 3 minutes.
6. Add the tomatoes and fry till everything is well mixed.
7. Add 1/2 to 3/4 cup of water.
8. Once the water starts to boil, add the fish fillets.
9. Reduce flame and cover with a lid.
10. Cook for 5 to 8 minutes, stirring gently, till fish is cooked.
11. Remove and serve hot.
Note: image is for illustration purposes only and not that of the actual recipe.
Image credit: mariasmenu