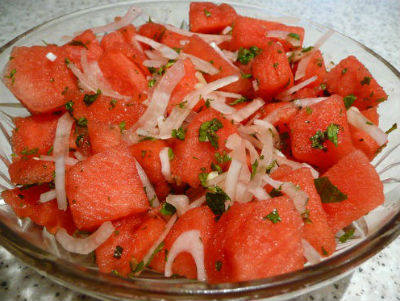 Ingredients:
Watermelon – 1 kg, cubed, juices reserved
Mint Leaves – 3/4 cup, cut into strips
White Onion – 1, finely sliced
Juice of 1 Lime
Fruity Olive Oil – 1 tblsp
Dijon Mustard – 1 tsp
Salt as per taste
Rocket Leaves – 100 gms
Feta Cheese – 100 gms, crumbled
Method:
Combine the watermelon and onion in a bowl.
Toss lightly.
Whisk the lime juice, oil, mustard and salt into 1/4 cup of the watermelon juice.
Drizzle over the salad.
Before serving, garnish with the mint leaves and rocket leaves.
Scatter the cheese on top.
Serve.
Image credit: flickr.com/photos/ricepot/4526130024/