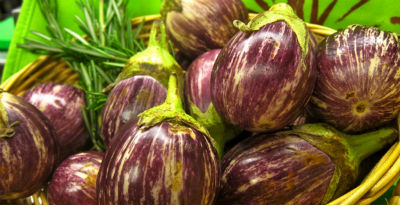 Ingredients:
Eggplants (Brinjal) – 500 gms, sliced lengthwise into 4 pieces, stems discarded
Parsley – 1/2 bunch, finely chopped
Vinegar – 1 tblsp
Olive Oil – 1 1/2 tblsp
Paprika – 1/2 tsp
Cumin Powder – a small pinch
Garlic Cloves – 1, large, peeled, crushed
Salt as per taste
Method:
1. Heat a pan of salted water and bring to a boil.
2. Add the eggplants and blanch them for 5 to 10 minutes.
3. Drain the water and keep the eggplants aside.
4. Mix the parsley, vinegar, olive oil, cumin powder, paprika, garlic and salt in a bowl.
5. Dip each eggplant in this dressing and place them on a serving platter.
6. Or pour the dressing over the eggplant and toss to mix.
6. Serve.
Note: image is for illustration purposes only and not that of the actual recipe.