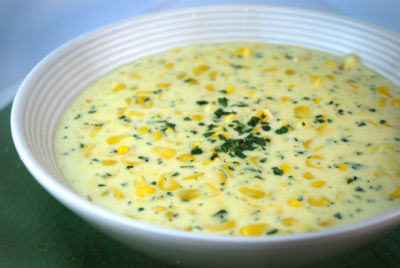 Ingredients:
Onion – 1, small, quartered
Tomato – 1, small, quartered
Corn Kernels – 1/3 cup, frozen
Chicken Stock or Water – 1/2 cup
Salt – a pinch or as per taste
Black Pepper Powder – as per taste
Whipping Cream – 1/8 cup, heavy
Red Capsicum – 1/4, cut into strips, roasted
Method:
1. Blend together the corn, onion, tomatoes and 1/4 cup of the stock for 1 1/2 to 2 minutes.
2. Heat the remaining stock in a large pan and add the blended mixture.
3. Season with salt and pepper.
4. Heat thoroughly but do not boil.
5. Add the whipping cream and reduce heat.
6. Cook for 3 to 4 minutes.
7. Garnish with strips of roasted capsicum and serve warm.
Tip: You do not have blend the ingredients smooth. Small chunks of the vegetables are fine.

image credit: cookingplanit