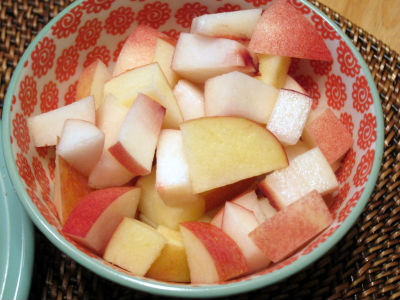 Ingredients:
Peaches – 225 gms, peeled, sliced
Apples – 1, cored, peeled, sliced
Sugar – 1 tsp
Cumin Seeds – 3/4 tsp, roasted and ground
Salt as per taste
Black Pepper Powder as per taste
Lemon Juice – 3 to 4 tblsp
Chilli Powder – 1/4 tsp
Water – 1/2 tblsp or as required
Method:
1. Combine the apple and peach slices.
2. In another bowl mix the lemon juice, water, salt, sugar, cumin and chilli powder.
3. Mix until sugar has dissolved and pour it over the apple and peach slices.
4. Serve at once.
Note: image is for illustration purposes only and not that of the actual recipe.