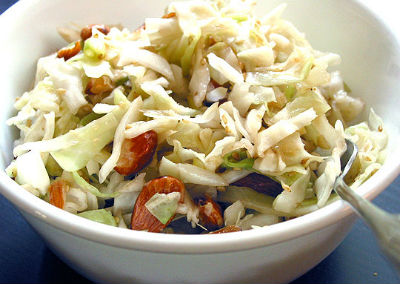 Ingredients:
Cabbage – 225 gms, finely shredded
Carrots – 1 to 2, small, trimmed, peeled, cut into strips
Green Chillies – 1 to 2, de-seeded, cut into thin strips
White Wine Vinegar – 80 to 100 ml
Water – 1 tblsp
Salt as per taste
Sugar – 1/2 tsp
Method:
1. Combine the cabbage, carrots and green chillies in a large jar.
2. Mix vinegar, salt, water and sugar.
3. Pour this over the cabbage mixture and mix well.
4. Cover with a lid and keep aside for 30 to 45 minutes.
5. Remove and serve as a side to a main course.
6. Stays good for a week if storer properly.
Note: image is for illustration purposes only and not that of the actual recipe.