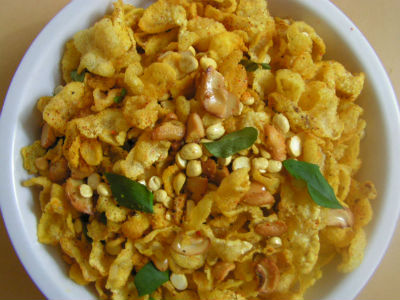 Ingredients:
Aval (Poha) – 1 cup
Jaggery – 2 cups
Coconut – 1/2 cup, grated
Peanuts – 1/2 cup
Sesame Seeds – 1/4 cup
Ghee – 1/4 cup
Cardamom Powder – a pinch
Method:
1. Dissolve the jaggery in water and strain.
2. Dry the roast the sesame seeds, poha, grated coconut and peanuts separately in a pan.
3. Boil the strained jaggery water and when it starts to thicken remove from flame.
4. Add the poha, peanuts, coconut, sesame seeds, ghee and cardamom powder.
5. Mix well.
6. Serve in small plates.
This keeps good for a week if stored properly.
Note: image is for illustration purposes only and not that of the actual recipe.