A classic pasta dish made with tomatoes and 3 varieties of cheese.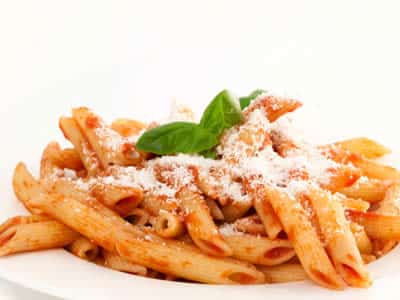 Ingredients:
Penna Pasta – 1 packet
Olive Oil – 1 tblsp
Garlic – 3 cloves, crushed
Cherry Tomatoes – 4, halved
Pepperjack Cheese – 1 cup, grated
Mozzarella Cheese – 1 cup, grated + some for garnish
Parmesan Cheese – 1/4 cup, grated
Basil Leaves – 1 tblsp, finely chopped
Method:
1. Bring a pan of water to a boil.
2. Add the pasta and boil until aldente, about 10 minutes.
3. Drain the water and keep the pasta aside until required.
4. Heat olive oil in a pan over medium flame.
5. Add the garlic and fry until golden.
6. Add tomatoes and reduce flame.
7. Cook for 10 minutes or until the tomatoes become slightly pulpy.
8. Add the cheese varieties and cook until cheese starts to melt.
9. Add the pasta and stir well.
10. Garnish with basil leaves and cheese.
11. Serve at once.