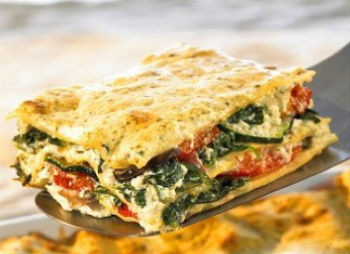 Ingredients:
Squash – 125 gms, finely sliced
Zucchini – 125 gms, sliced
Brinjal – 2, small, sliced
Spaghetti Sauce – 200 gms
Olive Oil as required
Salt as per taste
Black Pepper Powder as per taste
Parmesan Cheese – 3/4 cup, grated
Lasagna Sheets – 3, cooked as per packet instructions
For the filling:
Tofu – 100 gms, drained
Milk – 1 tblsp
Lemon Juice – 1 tsp
Sugar – 3/4 tsp
Salt – 1/4 tsp
Basil Leaves – few, sliced
Method:
1. Arrange the vegetables on a baking tray lined with parchment paper.
2. Sprinkle salt and pepper. Drizzle with olive oil.
3. Place them in a preheated oven at 350F/175C.
4. Bake for 15 minutes or until tender.
5. Remove and keep aside.
6. Combine the filling ingredients in a blender.
7. Blend until smooth and creamy.
8. Spread a thin layer of the spaghetti sauce at the bottom of a baking dish.
9. Place one lasagna sheet and spread a layer of the sauce on top.
10. Arrange some of the vegetables on top, then cover with some of the filling and cheese.
11. Add another sheet on top and continue in the same order – vegetables, flling and cheese.
12. Finish with the lasagna sheet on top and spread some sauce on top.
13. Sprinkle cheese and bake in a preheated oven at 175C/250F for 15 to 20 minutes or until the cheese has melted.
14. Remove and cool.
15. Serve.