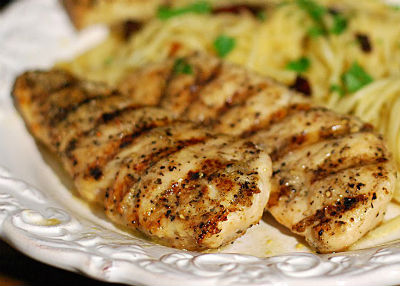 Ingredients:
Chicken – 650 gms, cut into bite sized pieces
Fish Sauce – 1/2 tblsp
Soy Sauce – 1 tblsp
Pepper Powder – 1/2 tsp
Garlic – 1 1/2 tblsp, coarsely chopped
Coriander leaves – 1 to 2 tblsp, chopped
Salt – 1/2 tsp
Water – 2 tblsp

Method:
1. Combine the coriander leaves, garlic, pepper powder, fish sauce, salt and soy sauce.
2. Add water and grind to a smooth paste.
3. Heat a large pan over moderate flame.
4. Add the ground paste.
5. Stir for 30 seconds and add the chicken pieces.
6. Stir and mix well till the chicken pieces are evenly coated with the paste.
7. Remove and transfer them to a bowl.
8. Cover and keep it in the fridge for 1 to 2 hours. Keep turning them from time to time.
9. Place the chicken pieces in a roasting pan in the oven at 450F and cook till brown.
10. Remove when done and serve warm with garlic sauce.
Tip: You can also place the chicken pieces on a hot grill.