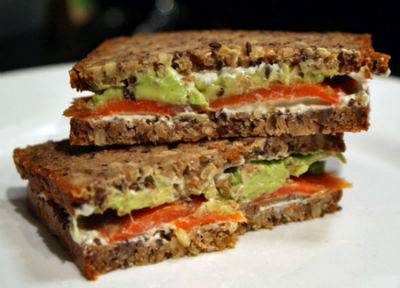 Ingredients:
Smoked Salmon – 8 slices
Brown Bread – 4 slices
Dill – 2 tsp
Mayonnaise – 2 tsp
Cream Cheese – 2 tsp
Salt as per taste
Pepper Powder as per taste

Method:
1. Mix the cream cheese and mayonnaise in a bowl.
2. Add dill, salt and pepper.
3. Mix well.
4. Spread this on the bread slices.
5. Add one salmon to one bread slice and cover with the other.
6. Slice into halves or quarters.
7. Serve with ketchup or chutney.
Tip: You can use lettuce, tomato, capsicum or onion slices if desired.