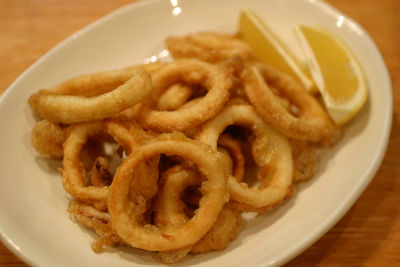 Ingredients:
Squid Tubes – 400 gms, sliced into 1 cm rings
Plain Flour – 1 1/2 cups
Sweet Spanish Paprika – 2 tsp
Olive Oil for deep frying
Lemons – 2, cut into wedges
Salt as per taste
Ground Black Pepper as per taste
Method:
1. Pat the squid rings dry.
2. Mix flour and paprika in a bowl.
3. Add salt and pepper.
4. Add the squid rings in flour until lightly dusted.
5. Heat oil in a deep frying pan until very hot.
6. Add the squid rings, a few at a time, and cook for 2 minutes, until golden brown.
7. Remove with a slotted spoon and drain excess oil.
8. Serve hot with lemon wedges.