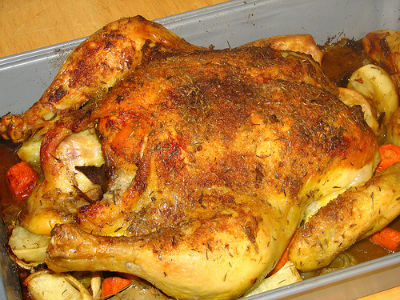 Ingredients:
Chicken – 1 kg
Eggs – 2 hard-boiled, chopped
For the Marinade:
Almonds – 20, blanched
Chironji – 3 tblsp
Poppy Seeds – 3 tblsp
Coconut – 3 tblsp, desiccated
Green Cardamoms – 6
Cloves – 6
Cinnamon – 2 one inch pieces
Coriander Seeds – 2 tsp, roasted
Cumin Seeds – 1/2 tsp, roasted
Red Chilli Powder – 1/4 tsp
Turmeric Powder – 1/4 tsp
Garam Masala Powder – 1/4 tsp
Salt – 1 1/2 tsp
Curd – 2 cups
For the Gravy:
Ghee – 1 1/4 cups
Onions – 2, finely sliced
Green Chillies – 2, chopped
Fresh Coriander – 2 tblsp, chopped
Method:
1. Clean chicken and prick it with a fork.
2. Grind all the dry marinade ingredients and mix with curd.
3. Coat chicken with this mixture and marinate for 1 hour.
4. Stuff marinated chicken with egg and stitch up opening.
5. Heat ghee in a pan and fry onions till golden.
6. Stir in chillies and fresh coriander.
7. Put the chicken with marinade into pan and cook for a few minutes on all sides.
8. Pour 300 ml of water.
9. Cover and cook for 45 minutes till tender.
10. Turn the chicken once or twice.
11. Remove and Serve with paratha.