Discover the joy of homemade Papri, the thin and crispy Indian snacks traditionally made during Holi and Diwali. Perfect for festive celebrations or as a base for flavorful chaat recipes.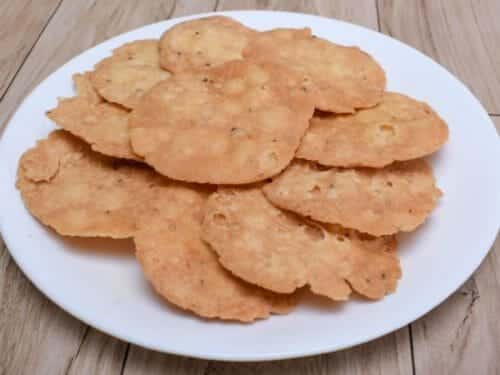 Papri, the light and crispy Indian snacks, hold a special place in the hearts and palates of those who enjoy traditional festive treats. Unlike Papri Chaat, a popular street food, these homemade delights are often prepared in Mathur households during joyous occasions like Holi and Diwali. The secret to achieving the perfect Papri lies in rolling out the dough as thin as possible, requiring skill and precision in both the rolling and frying processes. The larger the Papri, the greater the expertise needed to create these delightful bites.
With their thin and crispy texture, Papri can be enjoyed independently or used as a base for various chaat recipes like Papri Chaat or Dahi Papri. The versatility of Papri allows them to be paired with tangy chutneys, yoghurt, and an array of flavorful toppings, transforming them into mouthwatering chaat creations. Whether craving a savoury snack or planning a festive celebration, Papri is sure to impress with its unique combination of lightness and crunch.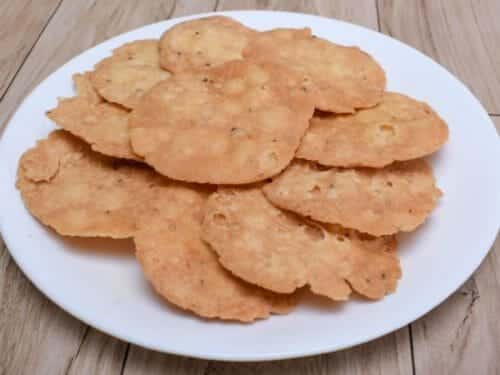 Papri
Discover the joy of homemade Papri, the thin and crispy Indian snacks traditionally made during Holi and Diwali. Perfect for festive celebrations or as a base for flavorful chaat recipes.
Ingredients
2

cup

Besan Flour

1

tsp

Salt

a pinch

Cream of Tartar

1/2

tsp

Red Chillies

powdered

a pinch

Asafoetida

powdered

6

Fenugreek Leaves

finely chopped

1/2 to 3/4

cup

Water

500

ml

Mustard Oil

for frying

A little

Plain flour

for dusting
Instructions
Mix all the dry ingredients and chopped fenugreek leaves together.

Add water, a little at a time, to make a very stiff dough.

Take 2 tblsp of mustard oil in a small bowl.

Gradually knead this into dough.

If it is difficult to knead with hands, pound it with a grinding stone or rolling pin.

With oiled hands roll dough into a long rope about 1 inch in diameter.

Cut off one inch pieces of dough.

Flatten each into a circle.

Dust work surface with flour and roll out papris as thinly as possible.

They should be about 5 to 6 inches in diameter.

Heat oil in a large frying pan till smoking.

Reduce heat and fry papris till cooked through and crisp.

Do not allow the papri to become too dark. They should be pale gold.

Cool and store in an airtight container.
Frequently Asked Questions about Papri
What is the difference between Papri and Papri Chaat? 
Papri and Papri Chaat are two different dishes with subtle differences. While Papri refers to the crispy, thinly rolled snacks traditionally made in Mathur homes during festive occasions. Papri Chaat is a popular street food that uses Papri as a critical ingredient. Papri Chaat combines the crispy Papri with a medley of flavorful toppings like yoghurt, chutneys, spices, and garnishes. So, while Papri is enjoyed on its own or used as a base for other chaat recipes, Papri Chaat is a complete dish that tantalizes the taste buds with its savoury and tangy flavours.
How do I achieve a thin and crispy texture in Papri? 
To achieve Papri's desired light and crisp texture, rolling out the dough as thinly as possible is essential. This requires a delicate touch and some practice. Start by dividing the dough into small portions and roll them out using a rolling pin. Dust the surface with flour to prevent sticking. Gradually increase the diameter of the rolled Papri, but remember that the larger the Papri, the greater the skill required in the rolling and frying process. Once rolled, carefully fry the Papri in hot oil until golden brown and crispy. The result will be light, crunchy, and irresistible Papri snacks.
Can I use Papri in other dishes besides Papri Chaat? 
Absolutely! While Papri Chaat is a popular way to enjoy Papri, these crispy snacks can also be used in various other dishes. You can serve them alongside dips and chutneys as a crunchy appetizer or as a base for other chaat variations like Sev Puri, Bhel Puri, or Dahi Papri. The versatility of Papri allows you to get creative and experiment with different flavours and toppings. So, suppose you're a fan of chaat or enjoy crispy snacks. In that case, Papri can be a delightful addition to your culinary repertoire.
Can Papri be made in advance and stored? 
Yes, Papri can be made in advance and stored for later use. Once the Papri has been fried and cooled completely, store them in an airtight container to maintain their crispiness. It's best to consume them within a week to ensure freshness. If you plan to use Papri in chaat recipes, assemble the dish before serving to retain the crunchiness. Papri also pairs well with various dips and chutneys, making them a handy snack for impromptu gatherings or a quick bite during tea time.
Are there any suitable pairings for Papri? 
Papri pairs wonderfully with a range of complementary flavours and dishes. Enjoy the tangy and spicy flavours of Papri Chaat. You can explore other chaat recipes like Aloo Tikki Chaat, Samosa Chaat, or Ragda Pattice. These dishes combine crispy elements, savoury fillings, and vibrant chutneys, creating delightful flavours. To balance the flavours and textures, you can also serve Papri with refreshing drinks like Mango Lassi, Mint Lemonade, or Masala Chaas. The crispy Papri provides a fantastic contrast to the creamy and refreshing beverages.