Ragda Pattice is one of the oldest street food in Mumbai.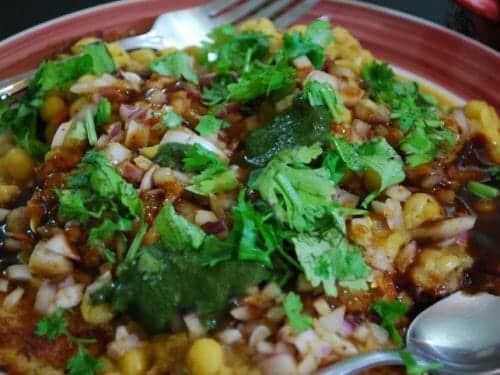 Ragda Pattice (or Ragda Patties) is a popular street food (chaat) made with dried white peas and potato cutlet topped with chutney and onions. It is one of the oldest foods in the streets of Mumbai and this simple recipe allows you to make it at your own home. If you are bored of the usual chaat items – Bhel Puri, Pav Bhaji or Pani Puri, then give this dish a try and you will def. love this street style Ragda Pattice recipe.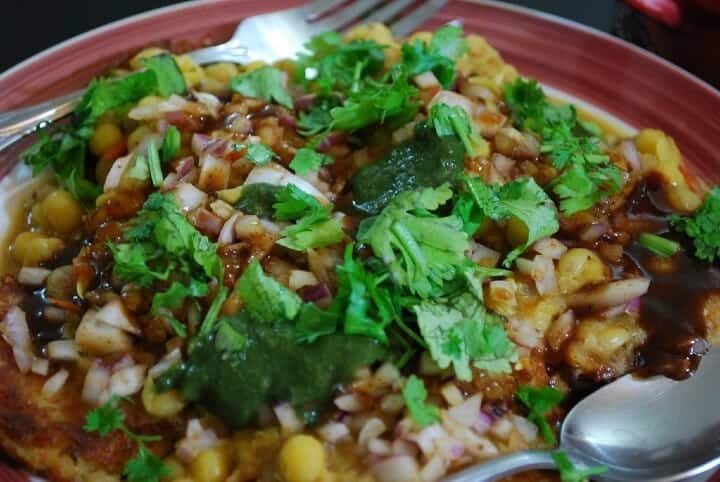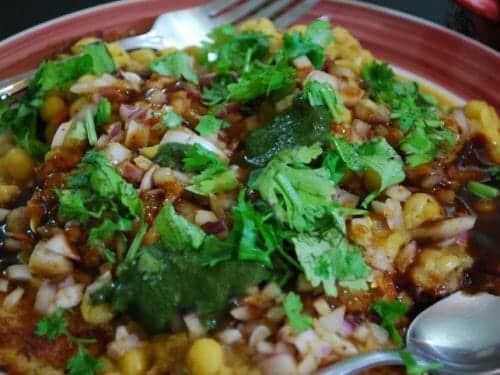 Ragda Pattice

Recipe

Ragda Pattice is one of the oldest street food in Mumbai.
Ingredients for
Ragda Pattice
For the Ragda:
500

g

Dried White Peas

1/2

tsp

Turmeric Powder

a pinch

Asafoetida Powder

2

tsp

Salt
For the Patties (or Pattice)
5 to 6

Potatoes

boiled, peeled, mashed

3

Onions

chopped

1/4

cup

Corn Flour

5 to 6

Green Chillies

chopped

1/4

cup

Coriander Mint Chutney

1/4

cup

Tamarind Dates Chutney

recipe here

1

tbsp

Chaat Masala Powder

few

Coriander Leaves

chopped

1

tsp

Salt

2

tbsp

Oil
How to make
Ragda Pattice
Soak the dried white peas in water for 5 minutes and drain well.

Wash and rinse 2 to 3 times. Drain well.

Then soak them in water until fully immersed for 8 hours or overnight.

Drain well and keep aside.

Heat 1.5 litres of water in a large pan over medium flame.

Add the asafoetida powder, turmeric powder and salt.

Bring to a boil.

Add the drained peas and boil again.

Cover the pan with a lid and simmer for 45 minutes or until the peas are soft.

Mix the potatoes, corn flour, green chillies and salt in a bowl.

Make small/medium balls of the mixture and flatten them.

Heat oil in a nonstick pan over medium flame.

Add the patties and cook until both sides are golden brown.

Remove and drain excess oil. Keep them warm.

To serve, place 2 patties on a plate.

Add some ragda on top.

Drizzle the coriander mint and tamarind dates chutney on top.

Sprinkle some onions, chaat masala and garnish with coriander leaves.

Serve at once.
Frequently Asked Questions about Ragda Patties (Ragda Pattice)
What is Ragda Patties, and what are its origins?
Ragda Patties is a popular street food dish from India with two main components: ragda and patties. Ragda is a spicy curry with white peas, while patties are shallow-fried potato cutlets. The dish is typically served by pouring the hot ragda over the crispy patties and garnishing it with an array of flavorful chutneys, onions, and sev (crunchy gram flour noodles). Ragda Patties is believed to have originated in Maharashtra, specifically in the bustling streets of Mumbai, where it has become an iconic street food staple.
Is Ragda Patties a vegetarian dish?
Yes, Ragda Patties is a vegetarian dish. Both vegetarian and non-vegetarian food enthusiasts commonly enjoy it. The patties are made primarily with potatoes and spices. At the same time, the ragda curry is prepared with white peas and a medley of aromatic spices. This delightful combination of flavors and textures makes Ragda Patties a beloved vegetarian street food option.
Can I customize the toppings and condiments for Ragda Patties?
Absolutely! One of the beautiful aspects of Ragda Patties is its versatility in toppings and condiments. While the traditional toppings include tangy tamarind chutney, spicy green chutney, finely chopped onions, and sev, you can get creative and personalize your dish. Add a dollop of yogurt for a cooling effect, sprinkle some freshly chopped coriander leaves for freshness, or experiment with different chutneys to suit your taste preferences. Let your imagination run wild and tailor the toppings and condiments to create a Ragda Patties experience that is uniquely yours.
Are there any similar dishes to Ragda Patties?
If you enjoy Ragda Patties, you might also appreciate other popular Indian street food dishes. Another Mumbai favorite, Pav Bhaji, features a spiced vegetable curry with buttery toasted buns. Bhel Puri, a delightful mixture of puffed rice, sev, chutneys, and crunchy veggies, offers a tangy and savory experience. Additionally, Dahi Puri, a dish comprising crispy puris filled with yogurt, chutneys, and spices, provides a delightful combination of flavors and textures. These dishes share the same spirit of vibrant flavors and street food charm as Ragda Patties, making them worth exploring if you're a fan of this beloved snack.
Can I make Ragda Patties in advance?
While Ragda Patties is best enjoyed fresh, you can prepare some components in advance to save time. The patties can be made ahead and stored in the refrigerator. When ready to serve, reheat them on a stovetop or in the oven to regain their crispiness. The ragda curry can also be cooked ahead and refrigerated. When reheating, add a little water or vegetable broth to loosen the curry and return it to the desired consistency. As for the toppings and condiments, it's best to prepare them fresh before serving to maintain their vibrant flavors and textures. By planning and prepping in advance, you can easily streamline the process and assemble a delicious plate of Ragda Patties when you're ready to indulge.