Crisp papdi topped with diced potatoes, tomatoes, onions, chutneys, masala and sev - spicy, sweet and tangy, all in one, mingling in your mouth.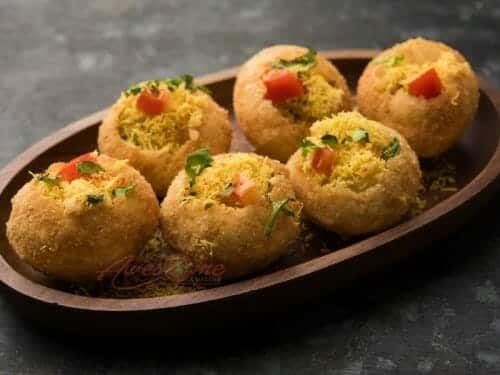 Sev Puri is one of the top 10 chaat recipes in India. Typically sold as a street food as Sev Puri Chaat, they are a great anytime snack option. It can be made at home easily as the recipe is not very complicated and requires regular ingredients.
A popular North Indian chaat dish, they are served as a starter, evening snack or appetizer across India.
Made of crispy puris topped with boiled, diced potatoes, onions, tomatoes and variety of chutneys and garnished with plain sev & coriander leaves.
In some areas, the dish is made without curd. If you do not prefer curd, then you can omit it.
Sev Puri is a versatile dish that can be enjoyed as a snack or appetizer. Its crispy puris, tangy chutneys, and savoury toppings like sev (crunchy chickpea flour noodles) and chopped onions make it a crowd favourite. If you love Sev Puri, you might enjoy other chaat dishes like Pani Puri or Bhel Puri. These dishes offer similar flavours and textures, bringing a burst of taste to your palate. So, gather your ingredients, unleash your creativity, and enjoy the delightful Sev Puri experience!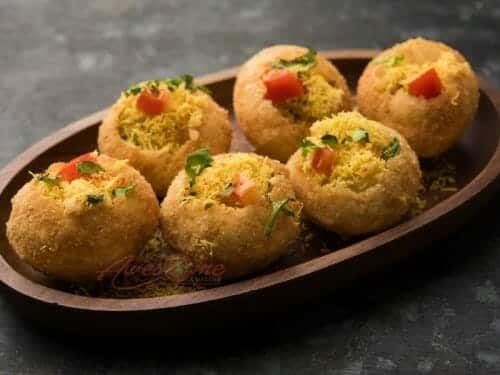 Sev Puri

Recipe

Crisp papdi topped with diced potatoes, tomatoes, onions, chutneys, masala and sev - spicy, sweet and tangy, all in one, mingling in your mouth.
Ingredients for
Sev Puri
6

Plain Puris (Plain Papdis)

available ready made in supermarkets

1/2

cup

Onions

finely chopped

1/2

cup

Tomatoes

chopped

1

Potato

boiled, peeled, mashed

1

tsp

Tamarind Extract

1

tsp

Sugar

1

tsp

Salt

1/4

tsp

Red Chilli Powder

1/8

tsp

Red Chilli Flakes

1/2

tsp

Paprika Powder

1/4

tsp

Black Pepper Powder

1/4

tsp

Jeera Powder

2

tsp

Thick Curd

thick

2

tsp

Sprouted Green Gram

or Boiled Chickpeas

1/4

cup

Plain Sev

few

Coriander Leaves

chopped
How to make
Sev Puri
Place all the puris/papdis in a plate.

Sprinkle a bit of salt to the potatoes and mash well.

Take 1/4 tsp of the potato and stuff it inside each puri.

Combine 1/2 tsp salt and 1/2 tsp sugar with the curd.

Add pepper powder and whisk well. Keep aside.

Combine the remaining sugar and salt with tamarind extract in another bowl.

Add the chilli powder, chilli flakes and jeera powder. Mix well.

Add some sprouted grams, chopped onions, tomatoes to the puris.

Add 1/4 tsp of the curd mixture and 1/4 to 1/3 tsp of the tamarind mixture.

Sprinkle some sev on top.

Garnish with the coriander leaves.
Frequently Asked Questions about Sev Puri
What is the main ingredient in Sev Puri?
The star ingredient in Sev Puri is the crispy puris, which are small, round, and deep-fried. These puris are a base for a delightful mix of flavours and textures that make Sev Puri a beloved Indian street food.
Can I spicy Sev Puri or adjust the heat level?
Absolutely! Sev Puri is known for its tangy and spicy taste. Still, you can easily customize the heat level to suit your preference. You can add more green or tamarind chutney if you like it spicier, or reduce the amount if you prefer a milder flavour. Don't be afraid to experiment and find the perfect balance of flavours for your taste buds!
Can I prepare Sev Puri for a party or gathering in advance?
Yes, you can prepare some components of Sev Puri in advance to save time during your party. You can make the chutneys and store them in the refrigerator for up to a week. The puris can also be prepared beforehand and stored in an airtight container for a few days. However, it's best to assemble the Sev Puri just before serving to maintain the crispiness of the puris and the freshness of the toppings.