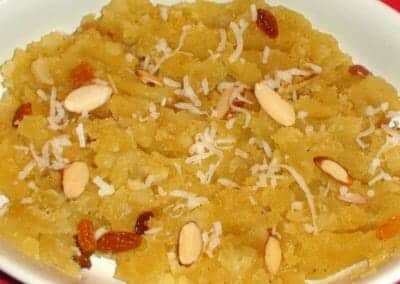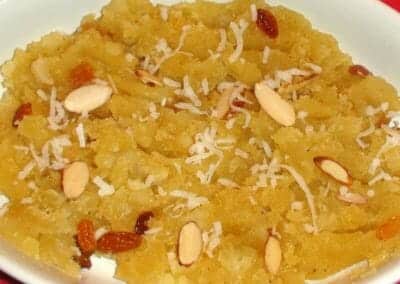 Ingredients:
Potatoes – 200 gms, boiled, mashed
Milk Maid – 2 tsp
Milk Khoya – 50 gms, crumbled
Sugar – 100 gms
Ghee – 100 ml
Edible Camphor (Pachai Karpooram) – little
Cashewnuts – few, fried in little ghee
Raisins – few, fried in little ghee
Method:
1. Add a little water to sugar and bring to a boil.
2. When it starts to thicken, add the mashed potatoes and khoya.
3. Stir to mix well.
4. Add little ghee from time to time and keep stirring.
5. When it reaches a halwa consistency, add milk maid and mix well.
6. Remove from flame and stir once or twice.
7. Add the fried cashewnuts, raisins and camphor.
8. Pour into a greased plate (or bowl) and allow it to cool.
9. Serve.