This simple homemade kiwi fruit jam makes a delicious accompaniment (or as a spread) to puris, toasts or chapatis.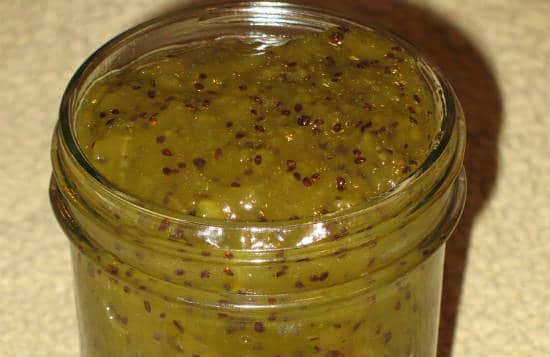 Ingredients:
Kiwifruits – 1 kg
Sugar – 2 cups
Lemon Juice – 2 tblsp
Method:
1. Cut the fruits into halves and scoop the flesh into a large pan.
2. Mash well.
3. Add sugar and lemon juice. Mix well.
4. Place this over a medium flame and simmer until thickened, stirring from time to time.
5. Transfer this to a clean, sterilized jars and cover with a lid.
6. Place the jars in a pan of boiling water for 5 to 10 minutes.
7. Remove and cool.
8. Use as desired.