Savour the aromatic blend of spices and veggies in our Vegetable Biryani – a classic dish that's both flavorful and comforting.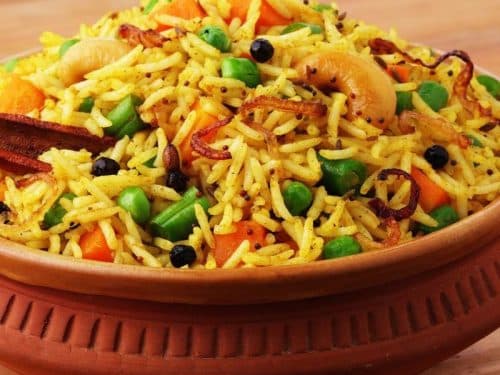 Step into aromatic spices and culinary delight with our Vegetable Biryani. This classic Indian dish celebrates flavours, featuring fragrant basmati rice, an assortment of colourful vegetables, and a harmonious blend of spices. Each bite promises a journey through the vibrant and diverse landscape of Indian cuisine.
About the Recipe:
Vegetable Biryani is a culinary masterpiece, showcasing the art of layering flavours. Basmati rice, potatoes, carrots, peas, and more all combine with a blend of spices, creating a dish that's not just a meal but an experience. Adding ghee, cashews, and cherry tomatoes elevates the richness, making it a must-try for any food enthusiast.
Why You Will Love This Recipe:
Get ready to fall in love with Vegetable Biryani. The fragrant aroma of spices, the tender vegetables, and the richness of ghee create a comforting and exciting symphony. Whether you're a seasoned cook or a beginner, this recipe promises a delicious journey into the heart of Indian cuisine.
Cooking Tips:
To achieve the perfect vegetable biryani, ensure you fry the basmati rice briefly before cooking it to enhance its nutty flavour. The secret lies in the layers – each vegetable and spice contributes to harmony. Don't rush; let the flavours meld during the cooking process for an authentic taste.
Serving and Storing Suggestions:
Serve Vegetable Biryani hot, garnished with coriander leaves and accompanied by fried bread pieces and cashews for added crunch. Pair it with a cooling raita and crispy appalam to complete the experience. Leftovers can be stored in an airtight container in the refrigerator for a next-day treat.
Other Similar Recipes:
Explore more Indian delights like Chicken Biryani or Paneer Tikka Masala for a culinary journey through the diverse and delicious world of Indian cuisine.
Nutrient Benefits:
Vegetable Biryani delights your taste buds and offers a nutritional boost. The mix of colourful vegetables provides essential vitamins and minerals, making it a wholesome and satisfying meal.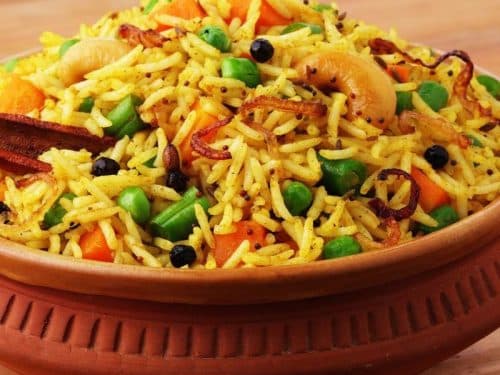 Vegetable Biryani
Savour the aromatic blend of spices and veggies in our Vegetable Biryani – a classic dish that's both flavorful and comforting.
Ingredients
2

cups

Basmati Rice

2

Potatoes

1

Carrot

1

Beetroot

100

gms

Green Peas

50

gms

Beans

2

Onions

1/2

cup

Cauliflower (chopped)

5

Garlic Flakes

2

Tomatoes

1

tsp

Red Chilli Powder

1/2

tsp

Turmeric Powder

2

tbsp

Ghee

1/2

tsp

Garam Masala Powder

8

Cashewnuts

6

Cherry Tomatoes (chopped to 1/8th size)

Salt to taste

3

slices

Bread (optional)

1

Bay Leaf

1/4

tsp

Turmeric Powder
Instructions
Chop all the vegetables.

Clean and fry the basmati rice in ghee for 2 minutes; remove from the pan.

Fry cashew nuts in ghee. Remove them.

Fry bread pieces in ghee; remove them.

Fry chopped vegetables in the remaining ghee.

Add salt, chilli powder, garam masala, bay leaf, and turmeric powder. Cook with rice in a pressure cooker (2 cups of water for 1 cup of rice).

Garnish with coriander leaves, fried bread pieces, and cashew nuts.

Serve hot with raita and appalam.
Frequently Asked Questions:
Can I make Vegetable Biryani without ghee?
Yes, you can use oil instead of ghee for a lighter version of Vegetable Biryani without compromising flavour.
Can I add more vegetables to the recipe?
Absolutely! Feel free to experiment with additional vegetables like bell peppers, mushrooms, or paneer for a personalized touch to your Vegetable Biryani.
Is the addition of cherry tomatoes necessary?
While cherry tomatoes add freshness, you can omit them if unavailable. The dish will still be flavorful and delicious.
Can I make Vegetable Biryani without a pressure cooker?
Certainly! Cook the rice and vegetables separately, then layer them in a pot, allowing them to cook together on low heat until done.
What can I serve with Vegetable Biryani?
Vegetable Biryani pairs wonderfully with cucumber raita, mint chutney, or a simple side salad for a well-rounded and satisfying meal.