A delicious, simple to make and easy muffins for any occasion especially during special occasions like Christmas.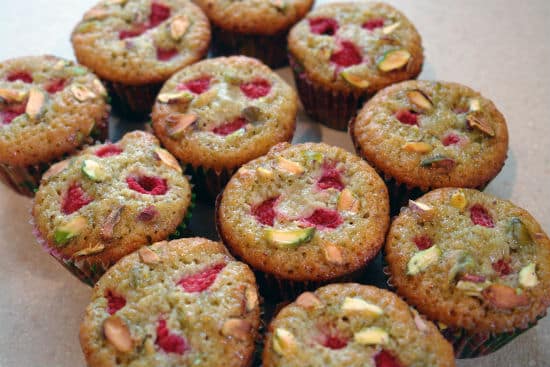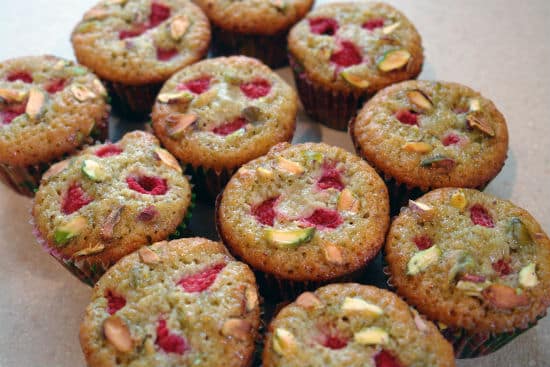 Ingredients:
Rapsberries – 100 gms
Pistachios – 2 1/4 tblsp, roughly chopped
Wheat Flour – 150 gms
Maida (Plain Flour) – 1/4 cup
Baking Powder – 1 1/2 tsp
Soda Bicarbonate – 1/4 tsp
Plain Hung Yogurt – 150 gms
Honey – 75 ml
Egg – 1
Olive Oil – 60 ml
Vanilla Extract – 1/4 tsp
Salt as per taste
Method:
1. Whisk the egg in a bowl.
2. Add the honey and vanilla extract.
3. Gently add the olive oil and mix well.
4. Separately, mix the wheat flour, maida, soda bicarb, baking powder and salt.
5. Pour this into the honey mixture and mix well.
6. Add the yogurt and raspberries.
7. Mix well.
8. Finally, add the pistachios and mix.
9. Spoon the mixture into a muffin tray lined with paper cases.
10. Place the tray into a preheated oven at 200C/400F.
11. Bake for 10 minutes.
12. Reduce the temperature to 180Cc/360F and bake for another 15 minutes or until a skewer inserted into the center comes out clean.
13. Remove and cool.
14. Serve as a snack or as a dessert.
15. Any excess can be stored in an airtight container.