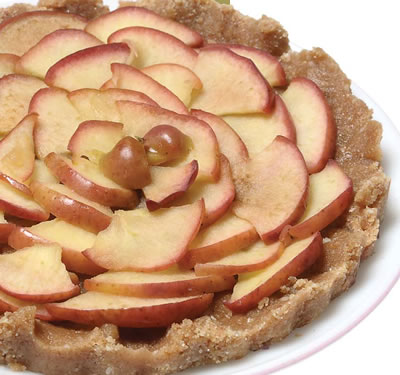 Ingredients:
Walnuts – 2 1/2 cups
Dates – 1 1/2 cups, piths removed
For the filling:
Apples – 3, sliced into 1/4 inch pieces, cored
Juice of 1 Lemon (mixed with 2 cups of water)
Cinnamon Powder – 1/4 tsp
All Spice Powder – 1/2 tsp
Clove Powder – a pinch
Honey – 2 tblsp
Apple Juice – 1/2 cup
Raisins – 1/4 cup
Method:
1. Mix the walnuts and dates and coarsely grind them.
2. Transfer this to a 9 inch tart pan and press evenly.
3. Keep it in the fridge till required.
4. Place the apple slices in the lemon water for a few minutes and drain well.
5. Heat a pan over medium flame.
6. Add the apples and all the other ingredients to the pan.
7. Cook for about 10 minutes.
8. Remove the apples and keep aside to cool.
9. Cook the liquid till it is reduced by half and cool.
10. Place the apples over the crust and brush with the cooled syrup.
11. Serve.