Prepare this delicious biryani today and give a sumptuous treat to your family and loved ones.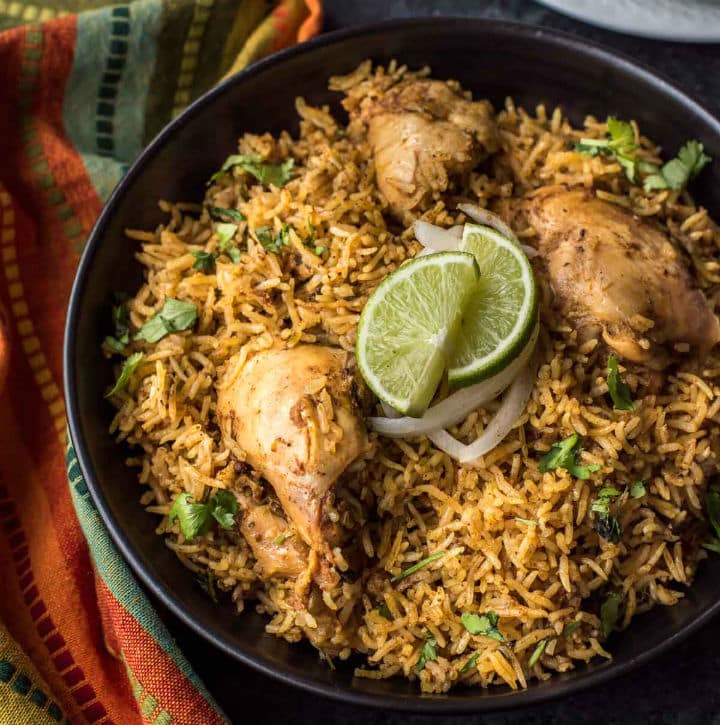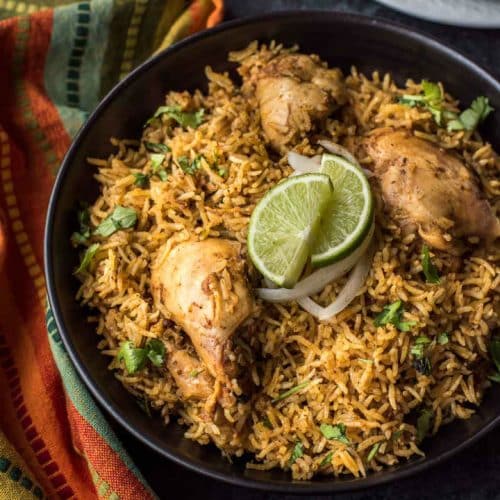 The Biryani is a royal dish which originated in Iran many centuries ago. Basically, the word 'Biryani' came from the Persian word 'birian' that means 'fried before cooking'.
Biryani is one of the most loved non-vegetarian dishes in India as well and recipes like chicken biryani, mutton biryani, and plain biryani are popular throughout the country. Historians believe that this Persian dish was brought by the Mughals in India and its popularity soon spread in the entire subcontinent.
Nowadays, Chettinad chicken biryani is rising to fame due to its eccentric and aromatic flavor. It belongs to the Chettinad cuisine of Tamil Nadu which is famous for its spicy range of non-vegetarian recipes. Biryani is perfect as a main course and it tastes the best when served with raita or any other type of gravy.
Now before discussing the nutritional benefits of Chettinad chicken biryani, let's have a quick look at the ingredients so that you can also prepare it at your home. First of all, the specialty of this recipe is seeraga samba rice of Tamil Nadu which is aromatic and perfect for making biryani.
You will need secondary ingredients like chicken, pepper, red chilies, cumin seeds, cashew nuts, khuskhus, coconut milk, onions, tomatoes, lemon juice, ghee, fennel seeds, oil, mint leaves, etc to make this tempting and delicious rice preparation. For tempering, you can use cloves, cinnamon sticks, cardamoms and bay leaves.
In one cup of chicken biryani, there are 348 calories, 26 percent fat, 56 percent carbohydrate, and 18 percent protein. Moreover, chicken is healthy food in itself. Therefore, chicken biryani is an excellent source of protein as mentioned previous. The herbs and vegetables that are used in biryani, are rich in vitamins and minerals.
Prepare this delicious biryani today and give a sumptuous treat to your family and loved ones.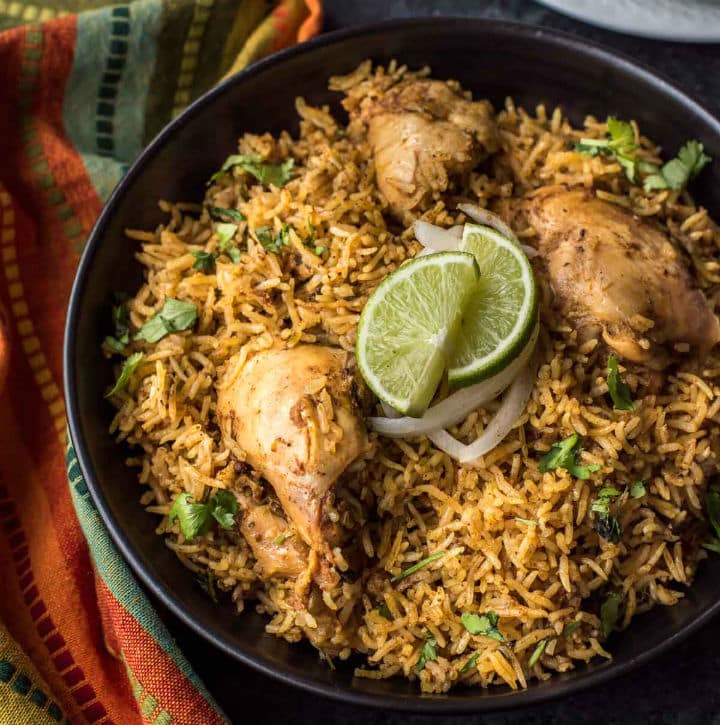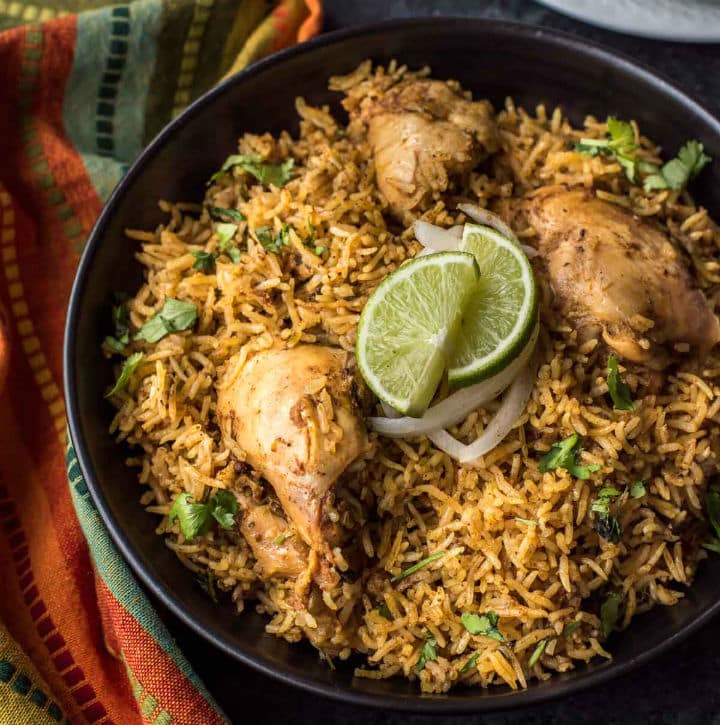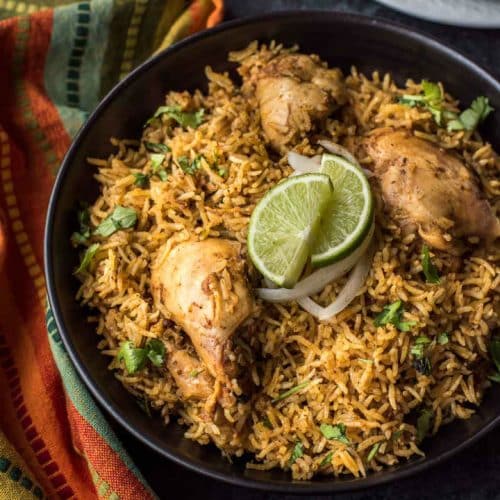 Chettinad Chicken Biryani

Recipe

Prepare this delicious biryani today and give a sumptuous treat to your family and loved ones.
Ingredients for
Chettinad Chicken Biryani
1

kg

Chicken Pieces

1

kg

Seeraga Samba Rice

1

tsp

Pepper

8

nos

Red Chillies – 8

1

tsp

Cumin Seeds – 1 tsp

5

nos

Cloves

4

nos

Cardamom – 4

1/4

inch

Cinnamon Stick

25

gms

Cashews

1

tsp

Khus Khus

3

cups

Coconut Milk

250

gms

Onions

Finely Chopped

250

gms

Tomatoes

Finely Chopped

2

nos

Lemon

Extract juice and keep

100

gms

Ghee

100

ml

Oil

1/2

tsp

Fennel Seeds

1

bunch

Mint Leaves

1

bunch

Coriander Leaves

4

nos

Green Chillies

2

tblsp

Ginger Garlic Paste

Salt

as per taste
For Tempering
Cloves

as required

Cinnamon Stick

as required

Cardamoms

as required

Bay Leaves

as required
How to make
Chettinad Chicken Biryani
Soak the rice for 1/2 hour.

Keep little mint and coriander leaves separately.

Take a mixer jar, add the pepper,red chillies, cumin seeds, cloves, cardamon, cinnamon stick, cashews, khus khus, fennel seeds.

Sprinkle some water and grind them to a fine paste.

Heat a heavy bottomed pan under medium flame.

Add oil, ingredients given to temper.

Add the chopped onions, green chillies and fry till golden brown.

Add the ginger garlic paste, ground paste, tomatoes and needed salt.

Saute them until a thick gravy is formed.

Add the cleaned chicken pieces along with mint leaves and coriander leaves.

Mix well until the masala is coated to the chicken pieces.

Add 3 cups of coconut milk and 1 cup of water and boil it.

Add the soaked rice and cook them to 1/4 th consistency.

Sprinkle mint leaves, coriander leaves and ghee on top of the rice.

Remove from flame and cover the vessel.

Heat a tawa under medium flame and place the biryani vessel on top.

Cook them for 15 minutes.

Remove from flame and add little coriander leaves and squeeze some lemon juice and mix well.

Serve hot with raita.