Poached Plums is a perfect dessert for any occasion. Easy to make and not too heavy, it is best served with vanilla ice cream.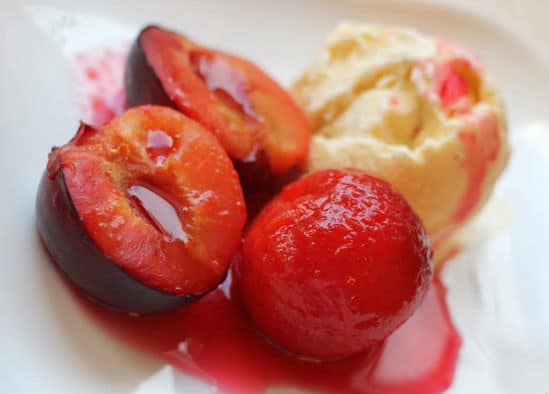 Ingredients:
Plums – 250 gms
Caster Sugar – 50 gms
Cinnamon – a small stick
Water – 175 ml
Orange Juice – 1 cup
Vanilla Ice Cream to serve
Method:
1. Heat a saucepan over medium flame.
2. Add the sugar, cinnamon, water and orange juice.
3. Simmer until sugar fully dissolved, stirring occasionally.
4. When it has a syrup like consistency, add the plums.
5. Poach (Cook) for 15 minutes or until the plums are soft.
6. Discard the cinnamon stick.
7. Transfer to serving bowls.
8. Serve with a scoop of vanilla ice cream.