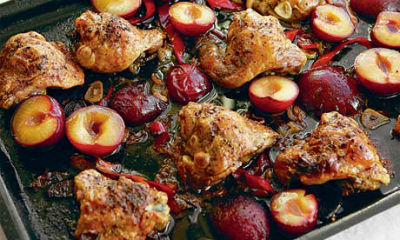 Ingredients:
Chicken Breasts – 3, boneless, skinless, cut into bite-sized pieces
Garlic – 1 to 2 cloves, chopped
Dark Red Plums – 5, halved, pits removed
Butter as required
Oil as required
Salt as per taste
Black Pepper Powder as per taste
For the Sauce:
Plum Jam – 2 tblsp
Red Wine Vinegar – 1/2 tblsp
Garlic – 1 small clove, crushed
Red Chilli Flakes – a small pinch

Method:
1. Heat a large pan over medium flame.
2. Add a little butter and oil.
3. Reduce flame and add the chicken pieces.
4. Add garlic and saute for 10 minutes.
5. Sprinkle salt and pepper.
6. Cook till the chicken pieces are no longer pink when cut, turning once or twice.
7. To make the sauce, heat a small pan.
8. Add the plum jam with vinegar.
9. Add garlic and chilli flakes.
10. Cook for a minute or two.
11. Remove and keep aside.
12. Remove the chicken pieces to a plate.
13. Add the plums to the pan and saute them for 8 to 9 minutes till they soften.
14. Add the chicken pieces and cook for a minute over low heat.
15. Transfer to a plate and spoon the sauce over.
16. Garnish with the plums.
17. Serve hot.
image credit: guardian