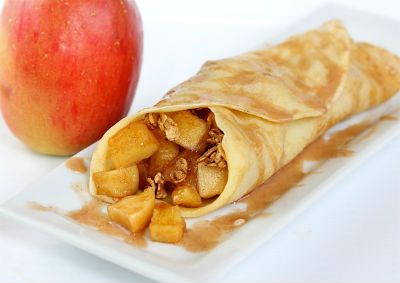 Ingredients:
Milk – 3/4 cup
Eggs – 2, small
Maida – 2/3 cups
Cinnamon Powder – 1/8 tsp + some more for sprinkling
Butter – 1 tblsp, melted
For the filling:
Apples – 2, peeled, sliced
Brown Sugar – 1 tblsp
Butter – 1 tblsp
Raisins – 1/4 cup
Cinnamon Powder – 1/2 tsp
Amaretto Liqueur – 1 tblsp
Method:
1. Heat a large pan over medium flame.
2. Add the sliced apples, butter and brown sugar.
3. Saute for 3 to 4 minutes.
4. Add the raisins, cinnamon and liqueur.
5. Mix well and remove.
6. Keep aside.
7. In a separate bowl, combine the milk, maida, eggs and cinnamon.
8. Blend well for 3 minutes.
9. Add the butter and blend again for a minute.
10. Keep aside for an hour.
11. Heat a non-stick pan over medium flame.
12. Pour a ladleful of the batter and spread evenly.
13. Cook for 2 minutes.
14. Flip and cook the other side until golden brown.
15. Transfer to a plate.
16. Spoon over some of the cinnamon apple filling and roll the crepe loosely.
17. Sprinkle some cinnamon powder.
18. Serve warm.
image credit: livlifetoo.blogspot.com