Savor the Exquisite Blend of Flavors in Warm Duck Salad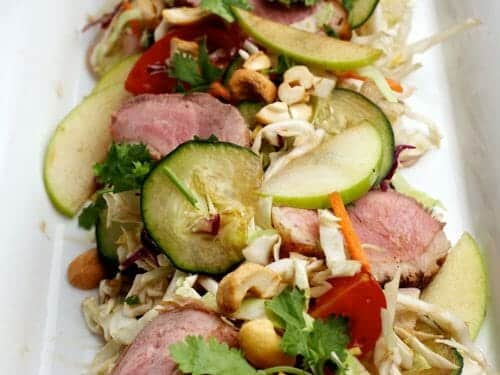 Elevate your dining experience with the captivating Warm Duck Salad. This dish is a symphony of textures and tastes, harmonizing succulent duck strips with an array of crisp vegetables. Imagine thin slices of duck breast, seared to perfection, mingling with the zing of fresh ginger, the kick of Serrano chile, and the sweetness of plums.
This Warm Duck Salad is not just a feast for the palate but a work of art on your plate. The vibrant colours of red onion, celery, and bell pepper dance in harmony, while the tender zucchini and flavorful bok choy add depth to each mouthful. The finishing touch of fresh cilantro elevates the salad with its aromatic freshness.
For those who appreciate culinary adventures like our Thai-inspired Peanut Noodle Salad or Grilled Chicken Caesar Salad, the Warm Duck Salad is a must-try. It's a medley of tastes and cultures that will transport your taste buds to new dimensions of delight.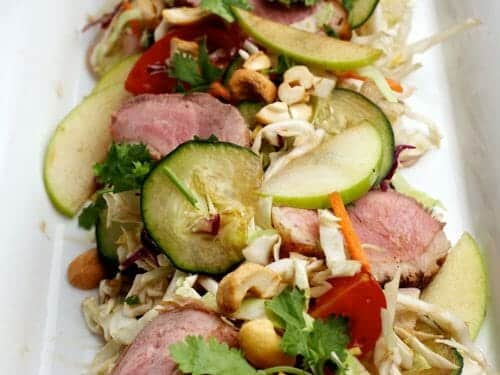 Warm Duck Salad

Recipe

Savor the Exquisite Blend of Flavors in Warm Duck Salad
Ingredients for
Warm Duck Salad
175gms

Duck Breast (all fat removed)

1

tbsp

Sunflower Oil

1

pc

Fresh Ginger (about 1-inch, peeled and grated)

1

pc

Fresh Serrano Chile (seeded and sliced)

1

pc

Red Onion (cut into thin wedges)

2

stalks

Celery (trimmed and finely sliced)

1

pc

Red Bell Pepper (seeded and finely sliced)

1

tbsp

Soy Sauce

125

gms

Zucchini (trimmed and sliced)

2

pcs

Plums (pitted and sliced)

100

gms

Baby Bok Choy (shredded)

1

tbsp

Fresh Cilantro (chopped)
How to make
Warm Duck Salad
Cut duck breast into thin strips, set aside.

Heat a wok until very hot, add oil and heat for 30 seconds.

Add ginger, Serrano chile, and duck strips. Stir-fry for 2 minutes until browned.

Add onion wedges, celery, and pepper slices. Stir-fry for 3 minutes.

Pour soy sauce, add zucchini and plums. Stir-fry for 2 minutes.

Toss in shredded baby bok choy and chopped cilantro. Stir-fry for 1 more minute.

Serve this delectable warm duck salad in a bowl.
Serving Size: 2 servings
FAQs:
Can I substitute duck with chicken in this salad?
Absolutely, you can swap duck with grilled chicken for a delightful twist on this warm salad. The flavours will still shine!
Is this salad suitable for vegetarians?
While the star of this dish is duck, you can create a vegetarian version by replacing the duck with tofu or tempeh. Enjoy the vibrant veggies and flavours!
What's a good dressing for Warm Duck Salad?
A light vinaigrette with a hint of honey and Dijon mustard complements this salad beautifully. Try our Citrus-Honey Vinaigrette for a zesty touch.
Experience the delight of Warm Duck Salad and explore its culinary versatility today! 🥢🥡
"Image is only for illustrative purposes and not that of the actual recipe"