A sweet and delicious way to start your day or perfect as a teatime/evening snack.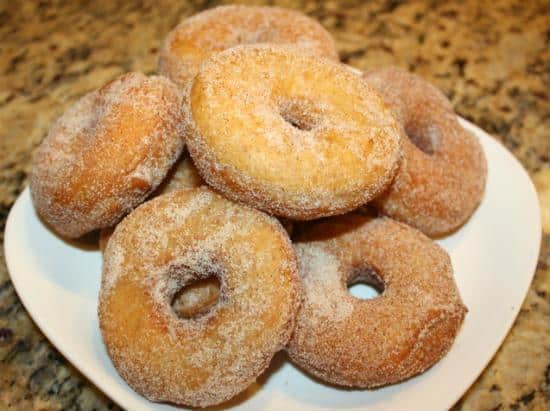 Ingredients:
Maida – 250 gms
Baking Powder – 1/2 tsp
Caster Sugar – 3 tblsp
Egg – 1
Milk – 100 ml
Oil – 3 tsp + some more for frying
For the coating:
Cinnamon Powder – 3/4 tsp
Caster Sugar – 1/3 cup
Method:
1. Sift the flour and baking powder together.
2. Add caster sugar and gently mix.
3. Break the egg into the bowl.
4. Add 3 tsp oil and milk.
5. Mix well until it has a chapati dough consistency.
6. Make small round balls and roll them into small circles of 1cm thickness.
7. Using a round cutter, cut out rounds of the dough.
8. Using a small round cutter, cut out the center of the dough to make a small hole.
9. Keep aside.
10. Mix the sugar and cinnamon powder in a bowl.
11. Heat oil in a deep frying pan over medium flame.
12. Fry the prepared doughnuts, in batches, until golden brown and cooked through.
13. Remove and drain excess oil.
14. Sprinkle the cinnamon mixture on top or toss the doughnuts into the mixture.
15. Shake off any excess and keep aside to cool briefly.
16. Serve warm.