A simple, flavourful pasta with shrimps, spaghetti, tomatoes and garnished with grated cheese. Perfect for any day, any time.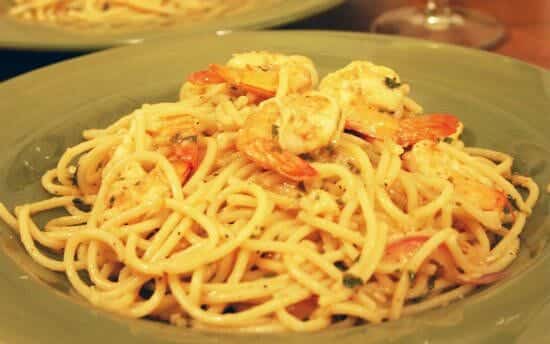 Ingredients:
Spaghetti – 175 gms
Shrimps – 225 gms, peeled, deveined
Olive Oil – 3 tsp
Garlic – 1 or 2 cloves, minced
Juice of 1/2 Lime
Coriander Leaves – big handful, chopped
Tomato – 1, small, chopped
Cumin Powder – 1/4 tsp
Black Pepper Powder as per taste
Red Chilli Flakes as per taste
Salt as per taste
Cheese – grated, to serve
Method:
1. Heat a large pot of salted water over medium flame.
2. Bring to a boil and add the spaghetti pasta.
3. Cook as per packet instructions and drain well.
4. Heat oil in a large pan.
5. Add the garlic and saute for 45 to 60 seconds.
6. Add the shrimps and cook for 6 to 10 minutes or until opaque and almost pink.
7. Add the red chilli flakes, pepper powder, cumin powder and salt.
8. Stir well.
9. Add lime juice and mix.
10. Add the pasta, tomatoes and coriander leaves.
11. Stir well and cook for 2 minutes or until evenly mixed.
12. Switch off the flame.
13. Garnish with the grated cheese and serve at once.