A simple, delicious and easy to make sandwich with mushrooms and paneer. Perfect for a light lunch or a dinner, these Mushroom Paneer Sandwiches also make for a great lunchbox or evening snack.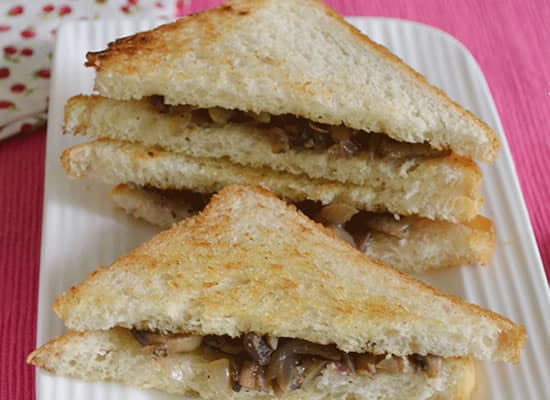 Ingredients:
Bread Slices – 10 to 12
Mushrooms – 15 to 16, chopped
Paneer – 200 gms
Onions – 2, finely chopped
Tomatoes – 4, finely chopped
Ginger – 2 inch piece, grated
Green Chillies – 2, chopped
Turmeric Powder – 1 tsp
Cloves – 4 to 5
Black Peppercorns – 10 to 12
Ajwain (Omam) – 2 tsp
Cumin Seeds – 2 tsp
Olive Oil – 1/4 cup
Salt as per taste
Butter as required (optional)
Method:
1. Crumble the paneer and keep aside.
2. Grind the peppercorns, ajwain, cumin seeds and cloves to a fine powder.
3. Heat olive oil in a pan over medium flame.
4. Saute the onions and ginger for 4 to 5 minutes.
5. Add the ground powder, turmeric powder and salt.
6. Add the tomatoes, green chillies and saute for another 8 to 10 minutes.
7. Add the mushrooms and crumbled paneer.
8. Saute for an another 2 to 3 minutes and switch off the flame.
9. Toast the bread slices and place them on a flat surface. Butter them if desired.
10. Divide the mushroom-paneer mixture among half of the slices and cover with the remaining slices.
11. Halve or cut into quarters if desired.
12. Serve at once.
Subscribe to our Newsletter
Receive the latest recipes & kitchen tips !