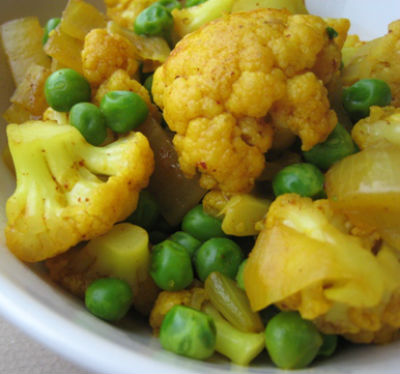 Ingredients:
Cauliflower Florets – 1 cup, finely chopped
Green Peas – 1 cup
Ghee – 3 tblsp
Turmeric Powder – 3/4 tsp
Cumin Powder – 3/4 tsp
Cumin Seeds – 3/4 tsp
Red Chilli Powder – a pinch
Salt as per taste
Method:
1. Heat ghee in a pan.
2. Stir-fry the turmeric powder, cumin powder, red chilli powder and cumin seeds for 15 to 20 seconds.
3. Add the cauliflower pieces and stir to coat evenly.
4. Add very little water and cover the pan with a lid.
5. Cook for 10 to 15 minutes.
6. Keep stirring from time to time.
7. Now add the peas and salt.
8. Remove the lid and cook till the vegetables are tender, about 4 minutes.
9. Transfer to a serving bowl.
10. Serve as an accompaniment with a gravy and rice.
Tip: If desired, you can also diced potatoes. Add them at step 6 with the peas.