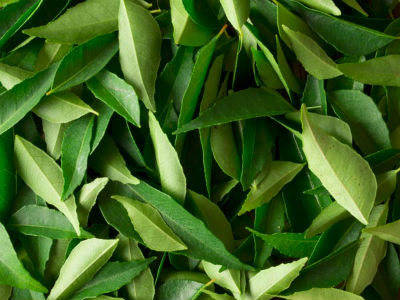 Ingredients:
4 cups curry leaves (picked and loosely packed)
a ball of tamarind (the size of a large lemon)
1 tsp turmeric powder
salt to taste
Fry in 1 tsp oil
9-10 red chillies
a small piece asafoetida
1 1/2 – 2 tsp pepper corns
1 tsp cumin seeds
2 tsp fine rice
Seasoning:
1/2 cup gingely oil
1 tsp mustard seeds
1 1/2 tsp black gram dal
Method:
1. Wash the leaves thoroughly, put these in a colander, set aside for all the water to drain.
2. Soak tamarind in boiling water, remove seeds and fibre, take out thick extract, set aside.
3. To the fried ingredients add curry leaves, salt, turmeric powder and grind to a fine paste with some water (about 1/2 cup)
4. To the ground paste add tamarind extract, mix well adding some more water if necessary, the mixture should be thick gravy.
5. Heat oil in a kadai, add seasonings and when done add the curry leaf gravy and allow to simmer on low heat, stirring occasionally till oil surfaces, remove kadai from fire.
6. Cool thoroughly before storing.
Serve with hot rice and a dash of ghee or oil or with curd rice.