A simple to make lip-smacking evening/teatime snack with minced mutton. Serve with chutney of choice.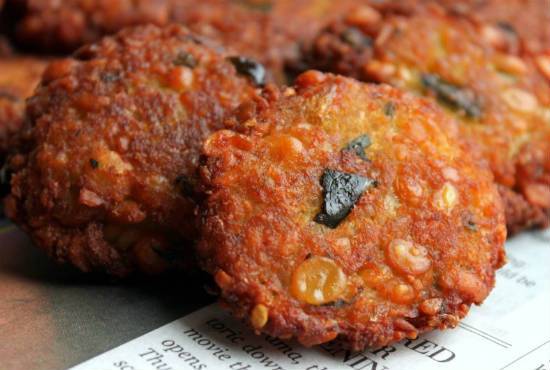 Ingredients:
Mutton – 100 gms, boneless, minced, cooked
Bengal Gram Dal – 2 tblsp
Saunf – 1 tsp
Garam Masala Powder – 1/8 tsp
Ginger Garlic Paste – 1 tblsp
Green Chillies – 2, chopped
Cumin Seeds – 1/2 tsp
Onions – 1 tblsp, chopped
Roasted Gram Flour – 2 tsp
Oil as required for frying
Asafoetida Powder – a pinch
Coriander Leaves – handful
Curry Leaves – handful
Salt as per taste
Method:
1. Mix the bengal gram dal, saunf, cumin seeds and green chillies in a bowl.
2. Add enough water and soak them for 30 to 45 minutes.
3. Drain well and grind to a coarse paste.
4. Add the minced mutton and grind to a thick paste.
5. Mix the gram flour, garam masala powder and asafoetida powder in a bowl.
6. Mix the onions, curry leaves, ginger garlic paste, coriander leaves and salt.
7. Combine all the ingredients in a large bowl.
8. Shape the mixture into small/medium balls and flatten them lightly.
9. Heat oil in a deep frying pan over medium flame.
10. Fry the prepared vadais until golden brown.
11. Remove and drain excess oil.
12. Serve hot with chutney of choice.