Tortillas are a popular Mexican and Central American flat bread similar to a roti/chapati. With no artificial colours or hydrogenated oils, they are fast becoming a staple choice across the country. And best of all they can be made in advance and stored in the freezer until required.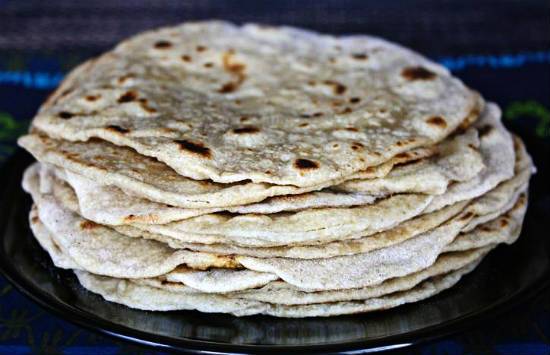 Ingredients:
Wheat Flour – 200 gms
Maida (Plain Flour) – 400 gms
Baking Powder – 2 tsp
Olive Oil (or Butter) – 1/4 cup
Salt as per taste
Method:
1. Combine all the ingredients in a large bowl.
2. Mix well until soft.
3. Gradually add enough warm water and mix well.
4. Mix well until it has a firm but soft dough consistency.
5. Cover with a damp kitchen cloth and keep aside for 15 to 20 minutes.
6. Make small balls of the dough and keep aside, covered with a damp cloth, for 15 minutes.
7. Sprinkle a bit of flour on a flat surface.
8. Roll the balls into medium rounds.
9. Heat a nonstick tawa over medium flame.
10. Cook the prepared tortillas on both sides, without adding oil, until lightly browned.
11. Remove and serve/use as desired.
Tip: You can also store the tortillas in the freezer by putting them in a airtight ziplock bags. When needed, bring them to room temperature before using.