This traditional and rich fruit cake is ideal for any special occasion or can also be served as an evening teatime cake.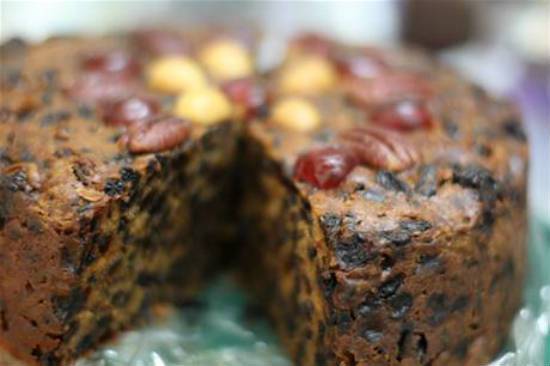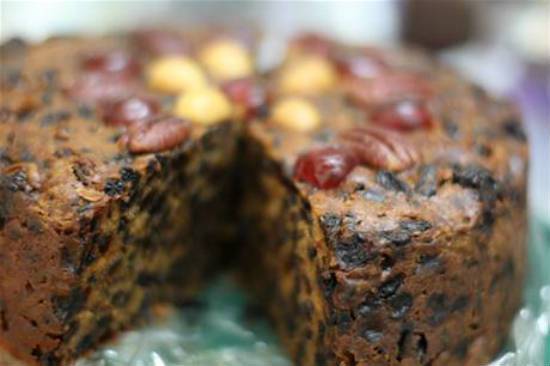 Ingredients:
Plain Flour – 1 cup
Mixed Spice Powder (Cinnamon, Cloves and Green Cardamon) – 1 tsp
Mixed Fruits – 500 gms, chopped
Butter – 125 gms
Brown Sugar – 1/2 cup
Eggs – 2
Brandy – 1/4 cup
Jam – 2 tblsp
Almonds – 2 tblsp, blanched
Glaced Cherries – 1/2 cup, halved
Round Cake Pan
Method:
1. Beat the sugar and butter in a bowl until smooth.
2. Break the eggs and beat well.
3. Add the flour, mixed fruits, brandy, spices and jam.
4. Mix well.
5. Transfer this to the cake pan, lined with nonstick parchment paper.
6. Spread evenly.
7. Sprinkle almonds and cherries on top.
8. Place this into a preheated oven at 150C/300F for 150 to 180 minutes, checking from time to time.
9. Remove from the oven and insert a skewer in the center.
10. If it comes out clean, then the cake is done.
11. Allow it to cool, before cutting into slices.
12. If storer in an airtight container, this keeps good for up to 3 to 4 days.