A lovely, tangy and delicious lemon flavoured tea cake. Quick and easy to make, it is ideal for breakfast, afternoon tea time or as a snack.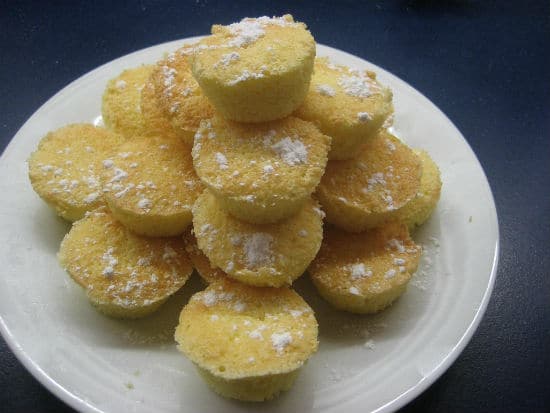 Ingredients:
Eggs – 4, large
Lemon Zest – 4 tsp, grated
Lemon Juice – 1/4 cup
Vanilla Extract – 2 tsp
Maida – 2 cups
Baking Powder – 4 tsp
Butter – 1 cup, unsalted, melted
Icing Sugar as required
Muffin Cups – greased
Method:
1. Combine the eggs, sugar, lemon zest, lemon juice, vanilla extract and salt in a large bowl.
2. Whisk until well blended.
3. Add the maida and baking powder.
4. Mix until well combined.
5. Add butter and mix again.
6. Transfer this to the muffin cups, filling each cup halfway through.
7. Place the muffin cups on a baking tray and place them in a preheated oven at 375F/180C.
8. Bake for 10 minutes or until the cakes have risen and golden.
9. Using a knife gently remove the cakes and invert them on a rack to cool.
10. Sprinkle icing sugar on top.
11. Serve warm.