Served as a snack/appetizer in Indonesia, these delicious and easy to make chicken satays are perfect for any meal and best served with a spicy peanut sauce or any dipping sauce of choice. Can also be served as a main course.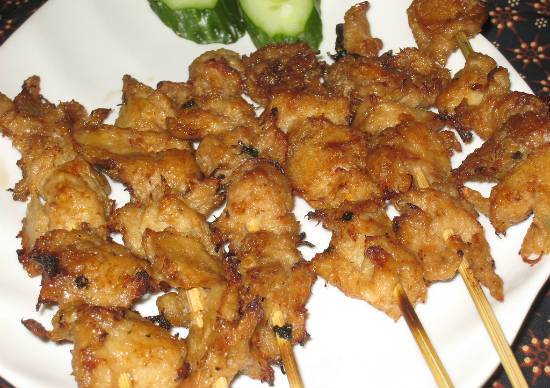 Ingredients:
Chicken Thighs – 3, skinned, bones, cut into small pieces
Oil – 2 tsp
Lime Leaves – 2, finely chopped
Soy Sauce – 2 tsp
Brown Sugar – 1/4 tsp
Shallots (Sambar Onions) – 2, small, finely chopped
Garlic Paste – 1/2 tsp
Salt as per taste
Black Pepper Powder as per taste
Wooden Skewers – soaked in water for 30 minutes
Method:
1. Mix the garlic paste, soy sauce, brown sugar, black pepper powder and lime leaves in a bowl.
2. Heat oil in a pan over medium flame.
3. Saute the onions for a minute or two. Switch off the flame.
4. Add the mixed paste along with the chicken pieces.
5. Keep aside for 15 minutes.
6. Skewer the marinated chicken pieces and brush them lightly with little oil.
7. Heat a griddle/grill pan over medium flame.
8. Place the skewers on the pan and cook for 2 to 3 minutes on each side or until cooked through.
9. Remove and serve with a dipping sauce of choice.