A delicious and lip-smacking creamy chicken kebab (Murgh Malai Kabab). Serve as an appetizer or starter with mint chutney or green chutney.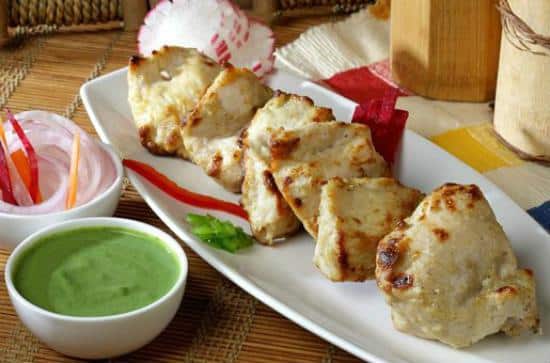 Ingredients:
Chicken – 500 gms, boneless, skinless
Cheese – 2 tblsp, grated
Salt as per taste
Fresh Cream – 2 tblsp
Ginger Garlic Paste – 1/2 tsp
Green Chillies – 2 to 3, chopped
Coriander Leaves – handful, chopped
Nutmeg Powder – 1/8 tsp
Mace Powder – 1/8 tsp
Pepper Powder – 1/2 tsp
Lemon Juice – 2 tsp
Butter as required
Garam Masala Powder – 1/4 tsp
Egg – 1, small, lightly beaten
Wooden Skewers – few, soaked in water for 30 minutes
For Garnishing:
Lemon Wedges
Onion Rings
Cucumber Slices
Method:
1. Chop the chicken into bite-sized pieces.
2. Mix all the ingredients except lemon juice and butter in a bowl.
3. Add the chicken pieces and mix well.
4. Keep aside for 4 to 6 hours or overnight in the fridge.
5. Skewer the chicken pieces and baste them with butter.
6. Place them over a preheated grill and cook until the chicken pieces are tender or for about 10 to 15 minutes.
7. Remove and transfer to a serving dish.
8. Serve with onions, lemon wedges, cucumber slices and green chutney.