Mulled Wine is a popular and traditional drink during Christmas. It can be served hot or warm.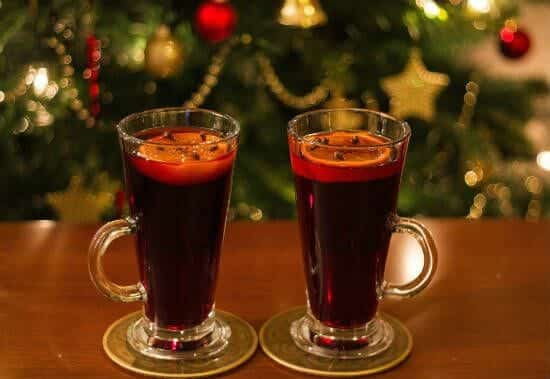 Ingredients:
Red Wine – 375 ml
Apple Cider – 225 ml
Honey – 1 1/2 tblsp
Zest of Juice of 1 small Orange
Clove Powder – 1/4 tsp
Nutmeg Powder – a small pinch
Cinnamon – 1 stick, broken into two
Fennel Seeds – 1/4 tsp, crushed
To Garnish:
Orange Peel or Orange Slices
Method:
1. Heat a large pot over medium flame.
2. Add all the ingredients and bring to a boil.
3. Reduce flame and simmer for 6 to 10 minutes.
4. Strain well and pour into a clean pitcher.
5. Pour into individual glasses, garnish with an orange peel and serve warm.
Note: You can also store it in the fridge (stays good for up to 3 days) and reheat when ready to serve.