Chicken Kathi (or Kati) Rolls are a popular street food / party snack recipe. Boneless chicken pieces marinated in a spicy masala, cooked and wrapped in a roti or paratha.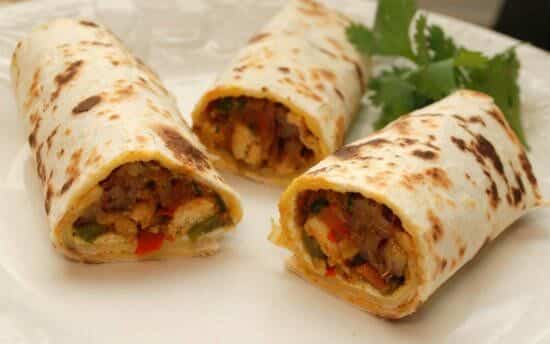 Ingredients:
Boneless Chicken – 250 gms, cut into bite-sized pieces
Egg Parathas – 5 to 6 (or as required) (see recipe here)
Onions – 1 tblsp, chopped
Ginger Garlic Paste – 1 tblsp
Coriander Powder – 1/2 tblsp
Turmeric Powder – 1/4 tsp
Garam Masala Powder – 1/2 tsp
Green Chillies – 1 tsp, chopped
Lemon Juice – 1/2 tblsp
Salt as per taste
For the salad filling:
Onions – 1, large, finely sliced
Coriander Leaves – 1/2 cup, finely chopped
Green Chillies – 4, finely chopped
Tomatoes – 2, medium, chopped
Method:
1. In a large bowl combine the chicken pieces, onions, ginger garlic paste, coriander powder, turmeric powder, garam masala powder, green chillies, lemon juice and salt.
2. Mix well and keep aside for 2 to 3 hours.
3. Skewer the chicken pieces and cook on a charcoal fire or bake at 180C/350F till done.
4. Meanwhile, mix all the salad ingredients and keep aside.
5. To assemble the roll, place a paratha on a flat surface lined with greaseproof paper.
6. Place a few chicken pieces in the centre.
7. Add a spoonful of the salad on top.
8. Roll the paratha tightly over the stuffing.
9. Serve hot with mint chutney.