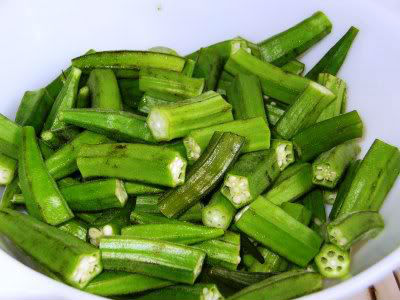 Ingredients:
Ladies Finger – 20 washed, cut into round pieces
Onion – 2, finely chopped
Coconut – 4 tblsp, grated
Sambar Powder – 2 tsp
Turmeric Powder – 1/2 tsp
Oil – 1 tblsp
Mustard – 1 tsp
Urad Dhal – 2 tsp
Asafoetida Powder – a pinch
Curry leaves – few
Salt as per taste
Method:
1. Heat oil in the pan and fry mustard seeds till it starts to splutter.
2. Add urad dhal and fry till it turns brown.
3. Add asafoetida powder, curry leaves and chopped onions.
4. Fry till the onions start to turn brown
5. Add ladies finger pieces and fry till they lose their stickiness.
6. Add sambar powder, turmeric powder and salt.
7. Add coconut and mix well.
8. Keep the flame low and stir for five minutes.
9. Remove from the kadai and serve.
10. Serve hot with rice.